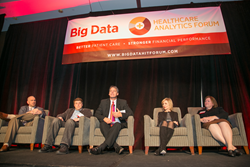 Some of the healthcare industry's biggest names are set to speak at the upcoming Big Data & Healthcare Analytics Forum
Portland, ME (PRWEB) April 08, 2015
Some of the healthcare industry's biggest names are set to speak at the upcoming Big Data & Healthcare Analytics Forum, produced by HIMSS and Healthcare IT News. The forum will present case studies, best practices, and thought-leadership discussions that demonstrate how leading healthcare organizations are using analytics to turn data into insights that reduce readmissions, cut hospital-contracted conditions, identify and eliminate waste, and improve clinician workflow.
When: June 18-19, 2015
Where: New York Marriott Marquis, 1535 Broadway, New York, NY 10036
Who Should Attend: Local, national media outlets covering healthcare and technology. Press passes are available but space is limited.
Featured sessions and speakers include:
Turning Big Data into Better Care
Michael Dulin, MD, Chief Clinical Officer for Analytics and Outcomes Research, Carolinas Healthcare System
Panel: Perspectives: Keys to Building a Data-Driven Organization
Practical Success Stories That Can be Applied to Any Organization
Eugene Kolker, PhD, Chief Data Officer, Seattle Children's Hospital
HealthNow's Journey to Meaningful Analytics
Chris Keaton, Manager, Enterprise Analytics & Optimization, HealthNow New York
The Rise of the Chief Data Officer in Healthcare
Insights From Advanced Analytics At The VA
Dr. Stephan Finn, Director of the Veteran Health Administration's (VHA) Office of Analytics and Business Intelligence
Big Data Genius Bar
Agents of Change: Empowering Physicians to Embrace Analytics
John Showalter, Chief Health Information Officer and Leigh Williams, Director of Revenue Cycle for the University of Mississippi Medical Center
The agenda for the Big Data & Healthcare Analytics forum is under development. Additional keynotes, speakers and topics will be announced in the coming weeks. For updates and detailed information about the forum please visit http://www.bigdatahitforum.com.
If you cover the healthcare industry or the technology industry, the forum will provide you with access to the leading experts in the field. Press & media passes are available to qualified individuals but space is limited. Contact Peggy Diab to receive your pass and to set up interviews with speakers or HIMSS Media representatives.
About Healthcare IT News
Healthcare IT News is the industry's leading news source, providing healthcare IT and other executives the information they need to implement and harness technology as a means to enhance patient care. Award-winning coverage includes clinical and business IT strategies, regulatory updates and vendor and provider news. Engaged readers access content online and in print, as well as through mobile and social media platforms.
About HIMSS Media
HIMSS Media produces and distributes essential information to help advance better health through information technology (IT). More than 500,000 leading influencers, medical professionals, policy makers and technology buyers around the world rely on our media, events, data and training materials to evaluate and implement effective improvements in patient care. With global scale and local expertise, HIMSS Media offers innovative and measurable solutions for health and healthcare technology marketers.