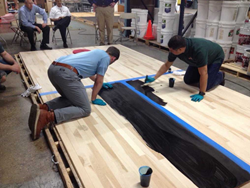 I encourage all hardwood floor contractors to become familiar with this innovative product, as I'm confident it will help them increase their bottom line and satisfy more customers!
Conshohocken, PA (PRWEB) May 06, 2015
Philadelphia Floor Store (PFS), the nation's leading hardwood flooring distributor, recently held an informative training session at their Conshohocken showroom. More than 40 wood floor professionals attended the free event designed to demonstrate the benefits of Rubio Monocoat – a plant-based, VOC-free, non-toxic, oil-based wood floor finish.
Attendees worked directly with Allan Nery from Rubio Monocoat to apply the designer European finish - view video footage. Contractors had a chance to see first-hand how the all-natural penetrating oil protects and colors wood in a single coat, and cures within 48 hours.
According to Mike Glavin, founder of the Philadelphia Floor Store, "It was a pleasure to host this event. It gave our customers a chance to test the finish system for themselves and learn more about the product. Rubio Monocoat is a great addition to our line of finishes. Not only is it easy to apply and maintain, with superior wear and liquid resistance, it's also VOC-free and all-natural."
Click here for more information on full line of Rubio Monocoat products or call 800-737-1786 to speak with a Philly Floor Wood Floor Consultant.
About Philadelphia Floor Store
PFS is a leading provider of unfinished and prefinished hardwood flooring and accessories including stains, finishes, abrasives, flooring tools, and sanding equipment. Family owned and operated, PFS has been serving hardwood flooring contractors for more than 20 years and provides the expertise needed to install and maintain hardwood floors. The company offers all the top name manufactures including, Aacer, Century, Norton, Lagler, 3M, Clarke, Bona, Basic, Primatech, Bostick, and more.
The company's in-house resources include a top-ranked Machine Repair Center, Rental Center, In-house Chemist, and Gym Floor and Wood Floor Consultants. PFS educates customers via personalized service, online training materials, videos, and free events.
Visit the PFS showroom in Conshohocken, PA or shop online at phillyfloor.com. For product information and training videos, visit the company's You Tube channel or Blog. Visit Philly Floor on Facebook or follow the company on Twitter at @PhillyFloor. For media inquiries, contact Caran Baxter at caran.baxter@phillyfloor.com or call 610-940-5757.