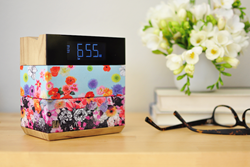 "Our speakers are designed to complement your home décor, and working with The Novogratz to add their design aesthetic to Sound Rise takes it to the next level" - Matthew Paprocki, Soundfreaq
LOS ANGELES, CA (PRWEB) April 08, 2015
Soundfreaq, maker of the critically acclaimed line of wireless speakers, is continuing the collaboration with husband-and-wife design team, Robert and Cortney Novogratz, to launch Sound Rise Flower Freaq. Flower Freaq is a modern wireless bedroom speaker and alarm clock that combines The Novogratz' unique designs with one of Soundfreaq's most popular and successful products, Sound Rise. The limited edition speaker is currently available at Soundfreaq.com for $99 and will be ready to ship in two weeks, just in time for Mother's Day.
Serving the style conscious, sound savvy music lover, Soundfreaq's Sound Rise blooms as the colorful Flower Freaq featuring a stunning Horticouture floral print from artist Carly Ralph. And just as Soundfreaq's speakers are meticulously sound crafted, each Flower Freaq unit is handcrafted, making each speaker pattern slightly unique. Sound Rise Flower Freaq adds a fun, colorful design to the nightstand while delivering rich sound and the convenience Bluetooth streaming.
"Our speakers are designed to complement your home décor, and working with The Novogratz to add their design aesthetic to Sound Rise takes it to the next level and brings our bedroom speaker and alarm clock to the forefront to accent your room," said Matthew Paprocki, co-founder and creative director of Soundfreaq. "We're thrilled to be collaborating with them again and to continue bringing their unique style into even more homes."
"We believe home décor and music are a true reflection of who you are, which is why we always love teaming up with Soundfreaq. Sound Rise's simple, smart, and modern design combined with our colorful, bold ideas allow consumers to bring more music and home decor into their lives - and who doesn't love waking up and getting ready to their favorite song every day in style" said Robert and Cortney Novogratz.
First unveiled at CES 2014 and named a CES "Best of Show" finalist by iLounge, Sound Rise maintains the classic features found in old-school alarm clocks, but with much improved functionality and added features to enhance today's modern lifestyle.
Sound Rise streams award-winning audio via Bluetooth and is equipped with a universal USB power port, allowing users to charge their smartphones with ease. Sound Rise also offers dual alarms with weekday/weekend settings and gradually increasing volume, allowing users to wake up gently to the radio, music or alarm chime.
Sound Rise's upright design reduces the size of its footprint, taking up less room on valuable nightstand real estate. It's also built with adjustable display settings that ranges from extra bright to total blackout for those who don't want any light coming from their alarm clock. Sound Rise's display is also designed with a custom font that optimizes readability without filling a room with excess light. Sound Rise includes a special dedicated button to use either as a sleep timer to fall asleep to music for a set period of time or as a nap timer to nap for 15, 30, 60, 90 or 120-minutes.
Sound Rise Flower Freaq matches The Novogratz's funky style with Soundfreaq's track record for offering products with smart features and impressive audio quality, making it not only the perfect bedroom speaker, but the perfect gift for Mother's Day. Rather than sending mom another bouquet of flowers this Mother's Day, gift her with a bouquet that will last forever, with Flower Freaq.
For product images and one-sheets please go to: http://www.soundfreaq.com/press.
About Soundfreaq (http://www.soundfreaq.com)
Soundfreaq is a global co-op of craftsmen – designers and engineers – with deep expertise in consumer electronics and a passion for great sound. By working outside the limitations of a traditional corporate structure, Soundfreaq is able to develop products from the ground up that deliver premium sound for a wireless world and provide maximum value to consumers. All Soundfreaq speakers stream audio wirelessly, making every product compatible with today's and tomorrow's wireless devices. The company has been honored with multiple awards for its highly praised wireless speakers, including the "Mashable Choice" award in 2013, "Best in Show" from iLounge at CES 2012 and 2013 and "Gear of the Year" from WIRED Magazine in 2011. Twine International and LA-based creative incubator Goodhatch created Soundfreaq in November 2010.
About The Novogratz (http://www.TheNovogratz.com)
For more than twenty years, Robert and Cortney Novogratz, The First Family of Design, have developed and designed many unique properties all across the globe, rebuilt (from the ground up) entire city blocks, and turned funky into fabulous, with every detail considered and executed with the utmost taste, confidence and luxury. Creating sumptuous, well-designed spaces from wrecks and empty lots, crafting distinctive architectural details throughout, forging exclusive techniques and finishes, then decorating each room with rare collectibles (both high and low) is the specialty of THE NOVOGRATZ. Together, this couple wears all the hats in developing and executing their striking aesthetic. The couple and their family of seven children (Wolfgang, Bellamy, Tallulah, Breaker, Five, Holleder, Major) currently live in the hills of West Hollywood, California.