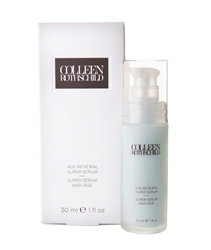 My goal is to make sure every product in our line is effective, but simple to use.
Dallas, Texas (PRWEB) April 08, 2015
Colleen Rothschild Beauty announces the release of their newest anti-aging product, Age Renewal Super Serum. Developed to effectively fight the six signs of aging - Texture, Dehydration, Elasticity, Fine Lines, Radiance & Tone.
Colleen Rothschild skincare marries proven, time-tested ingredients with the cutting-edge formulations that are destined to become tomorrow's classics - skincare that's stunningly simple, yet from a chemistry perspective, incredibly complex. That's the message behind each of the seventeen products in the Colleen Rothschild high-performance luxury skincare line.
"Simply apply a few drops of our Age Renewal Super Serum to your face, neck and décolleté or mix into your favorite moisturizer to BOOST the overall benefits of your other treatments," said Colleen. "My goal is to make sure every product in our line is effective, but simple to use."
-----------------------------------------
Age Renewal Super Serum is formulated with 20 of the most scientifically advanced anti-aging ingredients, these ingredients combined with Colleen's proprietary delivery system, Level E3, which extends the effectiveness and efficiency of every ingredient, work together to help restore your skin's complexion to it's most youthful radiance and texture.
Key Ingredients:

Snap 8: reduces appearance of wrinkles
Syn-Coll: improves skin elasticity
Gwennis: diminishes photo aging
Blue Copper: restores luminosity
-----------------------------------------
Colleen Rothschild high-performance luxury skincare can be found at colleenrothschild.com or other fine specialty stores.
About Colleen Rothschild Beauty
Long known as the Beauty Industry's 'Secret Weapon'— having been the mastermind behind hundreds of skincare and beauty products created for dermatologists, estheticians and world-class brands, Colleen Rothschild used her 20 years of expertise in the beauty business to create her carefully curated skincare collection. Colleen is the Founder and President of Colleen Rothschild Beauty. Her husband Stan Rothschild is the CEO of Rothschild Beauty Group, which markets, manages and manufactures the brand.