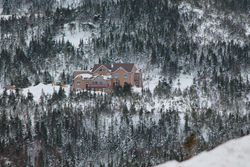 Gray, who has more than 20 years of sobriety himself, developed a passion for opening a treatment center after his son was severely injured in an accident caused by an impaired driver.
ALBERTA, Canada (PRWEB) April 21, 2015
iRecover, an innovative addiction treatment program that combines modern technology with time-tested recovery methods, has launched a new website featuring three of its current locations:Serenity Ranch in Alberta, Serenity Rock in Newfoundland, and Serenity Palms in Palm Springs, California. iRecover provides each participantwith an iPad fully loaded with the program's tools of recovery, including educational materials, community resources, avenues of support and workbook documents. The new website's modern design brings the iPad program to the forefront. Site visitors will have immediate access to information about ways the use of modern technology augments traditional substance abuse treatment programs. Easy navigation through the pages also allows readers to see the features of each iRecover location. The new logo represents all three locations by using colors natural to each setting.
By featuring background information on iRecover's founder, Jim Gray, the website adds a personal touch. It gives a sense of emotional connection by sharing the story that led to the program's origins. Gray, who has more than 20 years of sobriety himself, developed a passion for opening a treatment center after his son was severely injured in an accident caused by an impaired driver. His passionate efforts to keep drunk drivers off the road expanded into iRecover.
"Our new website's mobile capabilities and improved calls to action are some of the improvements," Gray said. "Because we are a society on the go, people rely more and more on mobile devices to access information. The mobile optimization provides the flexibility needed for consumers using phones and tablets to browse through the information easily. We want to reach people who are seeking information about recovery no matter where they are."
Gray's intention is to make iRecover franchises available to anyone who has an interest in offering help and hope to people suffering from addiction. Franchises can be new start-ups or conversions from current treatment facilities. In either situation, franchise owners will have access to all the materials for the four-week and eight-week programs offered at iRecover centers. They will receive assistance in the iRecover business procedures, including marketing materials, operational support, accounting and legal advice, and on-site training once the franchise is ready to open.
Initial training takes place at iRecover headquarters in Tees, Alberta, which is the location of Serenity Ranch. Located in a rural area surrounded by fields and meadows, Serenity Ranch originally was constructed as a transitional prison. With its transformation into an addiction treatment center, it provides single private rooms with bathrooms for participants. These accommodations give individuals time for quiet study and reflection.
About iRecover
iRecover treatment centers offer a creative approach to treatment for drug and alcohol addiction. By providing iPads to each individual who enters treatment, iRecover brings all of its recovery process to a client's fingertips. The iPads also give participants access to support from therapists and counselors, as well as community resources. In addition to state-of-the-art technology, iRecover relies on the proven recovery methods in the 12 steps of Alcoholics Anonymous. Services include the availability of detox, four-week basic treatment and eight-week extended treatment for participants who want more time to solidify their recovery. Additional information about the iRecover treatment procedures and iRecover franchise opportunity can be found at http://irecover.ca.