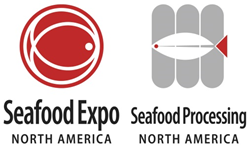 This year's exposition is by far the largest edition in the event's history in terms of exhibit space and participation, reflecting the importance of doing business in the North American market
Portland, ME (PRWEB) April 08, 2015
Diversified Communications, producers of Seafood Expo North America and Seafood Processing North America, announced that the 35th edition of the exposition had a record breaking year with over 20,680 seafood professionals participating in the three-day event, held March 15-17 in Boston, MA.
The exhibit hall, which featured 220,130 square feet of exhibit space, was represented by 1,204 exhibiting companies from 51 countries— surpassing last year's record by 22,700 square feet. New and expanded country participation included Brazil, Canada, Senegal, Morocco, China, Ecuador and Spain.
"This is the first time that a Brazilian Minister of Fisheries and Aquaculture came to an international expo," says Boston's first time exhibitor, Emerson Raiol, Head of Service – International, Ministry of Fisheries and Aquaculture. "Mr. Helder Barbalho was very pleased to see the significant representation of Brazil at the exposition and is considering expanding the Brazilian presence next year."
"This year's exposition is by far the largest edition in the event's history in terms of exhibit space and participation, reflecting the importance of doing business in the North American market," says Liz Plizga, Seafood Group Vice President at Diversified Communications. "This has been an incredible year and feedback from exhibitors has been positive."
"Being at the show gave us excellent exposure to the right people and high quality leads. We're expecting to receive many calls after the expo as a result," states Christa Svensson, Export Sales, Marketing and Sustainability, Bornstein Seafoods.
In addition to the exhibits, attendees had the opportunity to participate in a series of special events including a conference program on the most relevant topics in the seafood industry, culinary demonstrations by renowned Chefs and networking opportunities.
The 9th annual oyster shucking competition, which took place on the second day of the exposition, was won by Daniel Notkin of Notkins Oyster Bar who competed against 13 other contestants.
Winners of the 2015 Seafood Excellence Awards, which recognizes product leaders in the North American seafood market, were announced during a live judging by a panel of seafood buyers and experts from the retail and foodservice industries. Yihe Corporation won the "Best New Retail" award for its Alaskan Jack's and High Liner Foods won the "Best New Foodservice" award for its Pulled BBQ Salmon.
"Seafood Expo North America was a great opportunity for Absolutely Lobster® to launch its new products. We definitely reached our goals and created new connections," says Nickie Boston, Director of Brand marketing for Absolutely Lobster® and Seafood Excellence Awards finalist.
A press release issued on April 2, 2015 by Trade Shows News Network (TSNN) announced that Seafood Expo North America/Seafood Processing North America made the 2014 TSNN Top 250 Trade Show List. The list represents the top 250 trade shows held in 2014 in the United States ranked by net square footage.
The 36th edition of Seafood Expo North America/Seafood Processing North America will take place March 6-8, 2016 at the Boston Convention & Exhibition Center.
Visit http://www.seafoodexpo.com/north-america for more information about Seafood Expo North America/Seafood Processing North America. More coverage on the exposition and industry news is available at SeafoodSource.com, the official media for the exposition.
About Seafood Expo North America and Seafood Processing North America
Seafood Expo North America and Seafood Processing North America, formerly called the International Boston Seafood Show and Seafood Processing America, is North America's largest seafood exposition. Thousands of buyers and suppliers from around the world attend the annual, three-day exposition to meet, network and do business. Attending buyers represent importers, exporters, wholesalers, restaurants, supermarkets, hotels, and other retail and foodservice companies. Exhibiting suppliers offer the newest seafood products, processing and packaging equipment, and services available in the seafood market. The exposition is sponsored by the National Fisheries Institute and is co-located with the New England Food Show. SeafoodSource.com is the official media. The exposition is produced by Diversified Communications, the international leader in seafood-industry expositions and media. For more information, visit: http://www.seafoodexpo.com/north-america
About Diversified Communications
Diversified Communications is a leading international media company providing market access, education and information through global, national and regional face-to-face events, digital revenue, publications and television stations. Diversified serves a number of industries including: seafood, food service, natural and organic, healthcare, commercial marine and business management. The company's global seafood portfolio of expositions and media includes Seafood Expo North America/Seafood Processing North America, Seafood Expo Global/Seafood Processing Global, Seafood Expo Asia and SeafoodSource.com. Diversified Communications, in partnership with SeaWeb, also produces SeaWeb Seafood Summit, the world's premier seafood conference on sustainability. Based in Portland, Maine, USA, Diversified has divisions in the Eastern United States, Australia, Canada, Hong Kong, India, Thailand and the United Kingdom. For more information, visit: http://www.divcom.com
# # #
Media contact:
Diversified Communications
Jon Bass, Marketing Coordinator
jbass@divcom.com
+1 207-842-5563