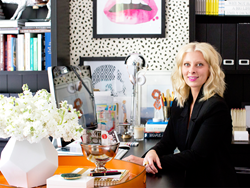 San Francisco, CA (PRWEB) April 08, 2015
Chairish.com, the online marketplace for design lovers, will host a vintage sale broadcast live on Instagram from legendary Atlanta flea market, Scott's. The event will take place Sunday April 12th from 9-11am PST on Chairish's Instagram account @Chairishco and will be co-hosted in partnership with beloved Atlanta blogger Mandy Kellogg Rye of Waiting on Martha.
This is the sixth sale and latest installment of their highly-lauded #ShopChairishLive Instagram series. As recognized by Forbes, Chairish is pioneering a major e-commerce innovation by creating appointment shopping events on Instagram. Chairish's past Live Instagram Sales have a frenzied atmosphere with 100% of items selling out in less than 6 seconds and with multiple back up offers.
As Chairish and co-host Mandy Kellogg Rye shop and discover fabulous vintage pieces at legendary Atlanta flea market Scott's, fans are invited to shop along and buy in real time on Chairish's Instagram feed. Items sold will be accessibly priced between $40 to $200, US shipping included.
Rye is an established tastemaker, decor fanatic, and blogger. Her successful blog Waiting on Martha was named one of the top 10 entertainment blogs by Better Homes and Gardens and has grown into an online boutique and lifestyle guide.
"The Atlanta community loves home décor and celebrates style like none other. What better a place to hunt for fabulous vintage treasures! Mandy Kellogg Rye is the perfect shopping partner for our next Chairish Instagram sale. Not only is she one of our favorite tastemakers, but Atlanta is her hometown. We'll pounce on those unique and tasty pieces that aren't only super stylish but also capture the unique style of this gracious American city," says Anna Brockway, Chairish Co-Founder and Chief Curator.
About Chairish
Chairish.com and their mobile app make it fun and easy for design lovers to buy and sell vintage and pre-loved furniture, decor, jewelry and accessories. Chairish exclusively features curator-approved treasures in a full-service and trustworthy environment. The site delivers inspiration, convenience, and newfound value to both buyers and sellers who share an obsession with fabulous finds.
About Mandy Kellogg Rye
Founder and Creative Director of acclaimed lifestyle blog and online boutique, Waiting on Martha, Mandy Kellogg Rye lives by the mantra that "life should be lived beautifully every single day." The Michigan native originally pursued a law career before discovering her true passion for fashion and design. In addition to launching Waiting on Martha in late 2012, Mandy currently serves as an editorial and interior stylist.