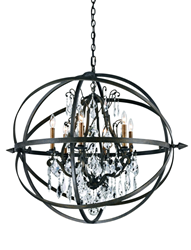 In working with Fascination Entertainment, we're able to showcase our commitment to innovative design and technology across a wide range of lighting and furnishings.
Los Angeles, California (PRWEB) April 27, 2015
Leading national lighting retailer Lamps Plus announces a partnership with production company Fascination Entertainment to serve as the exclusive lighting and furnishings sponsor for the forthcoming "Next Home" television series airing on PBS. The nationally televised series (airing beginning April 20 on most Public Broadcasting System member stations) will be comprised of thirteen 30-minute episodes examining the evolution of home design, from eco-friendliness and energy-efficiency to the coming wave of smart home automation and connectivity. As a partner, Lamps Plus will provide a modern selection of solar and LED lighting alongside a variety of on-trend home furnishings and decor.
"We're thrilled to be part of the "Next Home" PBS series. For more than 35 years Lamps Plus has designed and manufactured forward-looking products that are fit for any home," said Dennis Swanson, Founder and Chief Executive Officer of Lamps Plus. "In working with Fascination Entertainment, we're able to showcase our commitment to innovative design and technology across a wide range of lighting and furnishings."
Kristin Best, Producer with Fascination Entertainment and host of the "Next Home" series, elaborated: "When we started the partnership with Lamps Plus we didn't realize the breadth of product selection the company offers beyond lighting. We were looking for extraordinary products to go with this extraordinary home. Their in-house design team and lighting specialists worked hand-in-hand with us to select products that are impactful on the basis of aesthetics, efficiency and innovation."
Lamps Plus' product contribution includes a wealth of new lighting designs, the majority of which utilize energy efficient LED. Among these LED designs are the company's exclusive Super Duty collection of LED landscape lighting. Also included are solar powered outdoor spotlights, designed to provide security lighting even in the absence of electricity.
Arguably the most exciting of the Lamps Plus' product contributions is the chandelier in the living room. This bronze and crystal statement piece has been outfitted with LED bulbs, rather than traditional incandescent. It's just one of the many ways the "Next Home" is truly showcasing energy-efficiency.
Also exciting is the new Caseta wireless dimmer system by Lutron. This easy-to-install smart home system is a natural fit for "Next Home," allowing lights to be operated from anywhere in the home using a handheld remote, and from anywhere in world via a free smartphone app.
Rounding out the Lamps Plus product selection for "Next Home" is a wide range of indoor lighting, furniture, and decorative accents, underscoring the retailer's status as a one-stop retail destination for the home.
"Next Home" begins airing on PBS stations nationwide April 20.
About Lamps Plus
For more than 30 years, Lamps Plus has been synonymous with excellence in the retail lighting industry. Established in 1976, Lamps Plus is the nation's largest specialty lighting store, with three e-commerce sites and dozens of retail locations throughout the western United States. In 2014, LampsPlus.com was named a Top 10 Housewares/Home Furnishings e-tailer and a Hot 100" world's best retail website by Internet Retailer Magazine. Together with its retail locations, the company serves customers nationwide with the largest selection of functional and decorative lighting fixtures, accessories, furniture and home decor. This selection includes hundreds of products, ranging from traditional chandeliers to the latest in home decor, available exclusively from Lamps Plus. The company also holds several patents for innovative lighting. Services offered include in-home lighting consultations, in-store workshops and installation from expert, licensed electricians. American Lighting Association certified designers are available to offer product recommendations and advice in all our stores, by phone or online at LampsPlus.com. The Lamps Plus family of websites also includes 55 Downing Street and Lamps Plus Open Box. Visit the official Lamps Plus website: LampsPlus.com.
About Fascination Entertainment
Fascination Entertainment is a television production company committed to producing quality, entertaining, innovative programming in the 'Home' and 'Lifestyle' categories. Fascination Entertainment has produced non-fiction, reality programming for more than a decade.