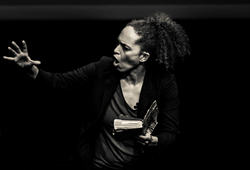 "Vibrant and tremendously brave, One Drop of Love is an odyssey of love, of race and ultimately of redemption. Cox's tale will break your heart even as it heals it." - Junot Díaz, Pulitzer Prize Winner
New York, NY (PRWEB) April 09, 2015
One Drop of Love is a multimedia solo show written and performed by Fanshen Cox DiGiovanni and produced by Matt Damon, Ben Affleck and Fanshen Cox DiGiovanni. The show asks audiences to consider: how does our belief in 'race' affect our most intimate relationships? Audiences will travel with writer/performer Cox DiGiovanni from the 1700s to the present, to cities all over the U.S, and to West and East Africa to explore history, family, race, class, justice...and love.
"The ultimate goal of One Drop of Love is to encourage everyone to discuss 'race' and racism openly and critically," said Fanshen Cox DiGiovanni. To facilitate this goal, a Q&A session focused on topics of social justice and allyship will take place after the show.
"Vibrant and tremendously brave…" writes Junot Díaz, Pulitzer Prize Winner and author of "This Is How You Lose Her," "One Drop of Love is an odyssey of love, of race and ultimately of redemption... Cox's tale will break your heart even as it heals it."
Angela Nissel, author of "The Broke Diaries" and Producer on "Scrubs" and "The Boondocks" writes, "One Drop conquers racial issues with honesty and an open heart. Anyone who has ever felt out of place… or had a crazy (but loving) family will really enjoy this."
Originally written as a thesis for Cox DiGiovanni's MFA, One Drop of Love has since toured the country at several institutions and venues, including the Miami University of Ohio, Stanford University, The Fox Theatre in Atlanta, the Brooklyn Historical Society and the Museum of Tolerance in Los Angeles. An award-winning actor, producer and educator, Fanshen Cox DiGiovanni has served as a Peace Corps Volunteer in Cape Verde, West Africa, and has designed curricula for, and taught, English as a Second Language to students from all over the world.
She has been honored with the Peace Corps' Franklin H. Williams Award, and with Peace Corps Fellows and Hollywood Foreign Press Association scholarships. She holds a BA in Spanish and Education, an MA in TESOL, and an MFA in Acting and Performance in Film, TV and Theatre. She is also a proud member of Ensemble Studio Theater/LA Playwrights Unit, and a co-director of the non-profit MixedRootsStories.org
Tickets for One Drop of Love are now available by calling the NYU Box Office at (212) 998-4941, visiting online at http://nyuskirball.org/calendar/onedropoflove, or visiting the Box Office at the NYU Skirball Center for the Performing Arts. Tickets range from $5 - $20 for general admission. NYU students can log in via NYU Discount to get $5 tickets. NYU's Skirball Center for the Performing Arts is located at 566 LaGuardia Place (at Washington Square) New York, New York 10012.
NYU's Ally Week "creates opportunities for students, faculty, and administrators to deepen their understanding of the experiences of others, and raise awareness of the individual and collective injustices that confront many in our society."