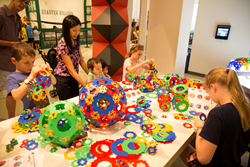 We are thrilled with the overwhelming interest in Family Fridays and are excited to continue our partnership with Time Warner Cable. Innovative programming is at the heart of MoMath's mission to make math fun for families and children of all ages
New York, NY (PRWEB) April 09, 2015
The National Museum of Mathematics (MoMath) and Time Warner Cable announce the continuation of Family Fridays at MoMath, a partnership that provides free mathematical opportunities to low-income families. Held monthly, Family Fridays invite children and families to join mathematical innovators from around the country to experience the fun and engaging aspects of math.
Family Fridays bring families together to enjoy a diverse array of engaging mathematical activities, promoting interest and enthusiasm among kids and adults alike. The activities are designed so all attendees, regardless of age, can participate on an equal footing. With new guest speakers each month and engaging topics, nearly every Family Fridays event since April 2014 has been filled to capacity.
"We are thrilled with the overwhelming interest in Family Fridays and are excited to continue our partnership with Time Warner Cable. Innovative programming is at the heart of MoMath's mission to make math fun for families and children of all ages," said Cindy Lawrence, MoMath executive director. "We look forward to bringing the love of mathematics to an even broader audience."
"We've had tremendous success in our Connect a Million Minds (CAMM) initiative to bring STEM awareness to young people through strategic partnerships and events like Family Fridays," said John Quigley, area vice president of operations, Time Warner Cable. "MoMath programs provide an innovative and exciting way to connect children and adults to fun, interactive STEM opportunities. We look forward to continuing our successful partnership and inspiring the next generation of problem solvers."
"When we set out to create the only math museum in North America, we wanted to create a space where visitors could discover the many surprising aspects of mathematics that rarely make it into the classroom setting," said Glen Whitney, MoMath president. "Thanks to the generous support of Time Warner Cable, Family Fridays will continue to reveal the exciting aspects of the subject and help us move toward our ultimate goal of changing perceptions of mathematics."
On Friday, April 10, Family Fridays: Math Runes, Art with Functions will feature a presentation by mathematician and award- winning artist Mike Naylor. Naylor will showcase Math Runes, the app he designed to explore how multiplication in different modular systems can create amazing designs. Guests will choose their favorite design using Math Runes, and then thread a beautiful pattern to turn the design into a physical piece of art. Attendees will discover just how fascinating simple operations like multiplication can be.
During Family Fridays: Popping Up on Friday, May 1, New York Times best-selling and award-winning pop-up book creator Robert Sabuda will share the process of creating his magical 3-dimensional books. Attendees will learn a variety of simple techniques that can be used for making cards, invitations and, with a little practice and imagination, books.
To learn more about Family Fridays at MoMath presented by Time Warner Cable and to view a schedule of upcoming programs, visit familyfridays.momath.org.
About the National Museum of Mathematics
The National Museum of Mathematics (MoMath) strives to enhance public understanding and perception of mathematics in daily life. The only math museum in North America, MoMath fulfills an incredible demand for hands-on math programming, creating a space where those who are math-challenged-as well as math enthusiasts of all backgrounds and levels of understanding - can revel in their own personal realm of the infinite world of mathematics through more than 30 state-of-the-art interactive exhibits. MoMath was awarded the bronze 2013 MUSE Award for Education and Outreach by the American Alliance of Museums. MoMath is located at 11 E. 26th on the north side of popular Madison Square Park in Manhattan. The Museum is open seven days a week from 10 a.m.-5 p.m. For more information, visit momath.org.
About Time Warner Cable
Time Warner Cable Inc. is among the largest providers of video, high-speed data and voice services in the United States, connecting 15 million customers to entertainment, information and each other. Time Warner Cable Business Class offers data, video and voice services to businesses of all sizes, cell tower backhaul services to wireless carriers and enterprise-class, cloud-enabled hosting, managed applications and services. Time Warner Cable Media, the advertising arm of Time Warner Cable, offers national, regional and local companies innovative advertising solutions. More information about the services of Time Warner Cable is available at http://www.twc.com, http://www.twcbc.com and http://www.twcmedia.com.