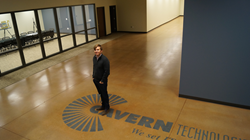 With bandwidth competition heating up in Tier 2 markets, we are seeing a shift in the way that companies are utilizing their data centers.
New York, NY (PRWEB) April 09, 2015
350 executives from 205 firms converge on New York City April 13-14, for a conference exploring practices, procedures and trends that impact the growing global data center market. The 4rd Annual Greater New York Data Center Summit brings the best and brightest minds together to share knowledge.
With unmatched protection from natural disasters, energy efficiency, cost savings and speed to market underground data centers are experiencing tremendous growth. Cavern Technologies' President John Clune, brings eight years of experience to the conference having designed and built over 80 private, data center suites for customers in banking, healthcare, legal, and technology verticals.
Clune is a nationally recognized expert and thought leader on data center design and deployments, having led sessions at AFCOM's Data Center World, IMN Data Center Real Estate Conference and been featured in Fast Company, 60 Minutes Australia, and Bloomberg News.
"I'm honored to share my insights and experiences with my peers from around the country. Events like the CRE Data Center Conference are excellent ways to share and gain knowledge regarding data center best practices," explains Clune.
"With bandwidth competition heating up in Tier 2 markets, we are seeing a shift in the way that companies are utilizing their data centers," shares Clune. "Robust incentives, plentiful, cheap power, and distance from fault lines and hurricane zones are motivations for some of our customers."
The session Clune is participating in is called, "The Impact of Emerging Markets & Site Selection: Analysis of the Methodology of New Development and Incentives Tied to Rising Submarkets." Session participants include Sagi Brody, Chief Technical Officer of Webair Internet Development, Chris Curtis, Senior Vice President, Development & Acquisitions of Compass Datacenters, Eli Scher, Chairman and CEO of New Continuum Holdings Corporation, and David Spiewak, Managing Principal of The DJS Group LLC. The panel will explore the advantages and disadvantages of locating data centers in secondary markets.
"Secondary markets are ideal location for data center deployments," shares Clune. "The coasts, where most dense data center operations are operating are susceptible to natural and man-made catastrophes like hurricanes and terrorism. The biggest driver we are seeing for moves to the Midwest is our favorable tax environment, deep and affordable talent pool and low cost, award winning and reliable power."
About Cavern Technologies, Inc.
Cavern Technologies, Inc. is a leading provider in the development, leasing and operation of build-to-suit wholesale data centers outside of Kansas City. Located 125-feet underground in a 3 million square foot facility, Cavern's environmentally regulated, secure infrastructure is Energy Star, SAS-70, SSAE 16 Type II certified. Cavern is designed to meet the specialized power, cooling and security requirements companies need to house IT systems that support their mission-critical business processes. Cavern provides tenants with unique business solutions and a value proposition focused on minimizing the total cost of ownership of data center and colocation infrastructure.
About CapRateEvents
CapRateEvents, LLC is the fastest growing digital media firm specializing in b2b and commercial real estate events. The third annual Data Center Summit in New York has become a national meeting place for data center industry leaders.