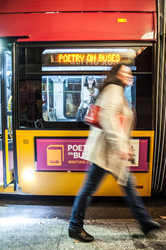 "I jumped on board whole-heartedly," said 4Culture's Poet Planner Roberto Ascalon, "to see how we can build communities in a poetic way. The theme writing home literally hits home."
Seattle, WA (PRWEB) April 13, 2015
Seattle was recently declared one of the "fastest growing cities in the US" (Forbes Magazine) underscoring the tremendous demographic shifts now occurring in the Pacific Northwest. Impacted by dramatic growth in the region, locals are reflecting daily on what defines community, and what makes a place home. Poetry on Buses, a program of 4Culture and King County Metro uses poetry to foster a conversation on "home" and to engage multi-lingual communities. The program makes visible the diverse poetic voices that define the region. With Poetry on Buses, Seattle celebrates National Poetry Month all year long, with a "Road Show" kicking off in April.
The two agencies began putting poetry on buses in 1992, replacing advertisements with poems. This year, the program expanded dramatically with 125 poems now displayed on over 100 King County Metro RapidRide buses and 30 bus stations. Commuters have access to a mobile art experience, using public wifi on the RapidRide buses to access poetryonbuses.org where a new poem is published each day for 365 days. The poems explore the theme "writing home" in five languages: English, Russian, Somali, Spanish, and Vietnamese.
"We set ambitious goals," said Tamar Benzikry-Stern, 4Culture's Public Art Project Manager. "It's the first time we hired a Poet Planner and Community Liaisons to engage personally and poetically in multiple languages. It's the first time we had poetry writing workshops encouraging people to submit their own poems, and in their own language." Benzikry-Stern sees the program as a way for 4Culture to start conversations and forge relationships with communities throughout our region, and advance 4Culture's mission to support arts and heritage in King County.
The Poetry on Buses "Road Show" will begin in April in celebration of National Poetry Month. Curated by program poet Michelle Peñaloza, the Road Show is a series of events consisting of poetry readings, writing workshops and musical performances to explore the complexities of the question "where are you from?" The Road Shows will take place at two King County Libraries (Covington Library on April 25 at 2 p.m. and Bellevue Library on May 9 at 1 p.m.) and at Northwest Folklife Festival. At the Festival (on May 23, from noon-6 p.m.) the poetry and musical performances will take place on a Poetry Bus. Poetry on Buses will also have a presence at community festivals put on by each language community in the coming summer and fall.
"Poems, relationships and a whole host of possibilities grew out of our new program framework," said Benzikry-Stern. "I'd love to see this framework experimented with in other cities."
For more information on Poetry on Buses visit poetryonbuses.org
ABOUT 4CULTURE
4Culture, the cultural services agency for King County, Washington is committed to making our region stronger by supporting citizens and groups who preserve our shared heritage, and create arts and cultural opportunities for residents and visitors. 4Culture.org
Poetry on Buses is managed by Public Art 4Culture using Percent-for-Art Dollars allocated for the commissioning and management of artwork for shared public space in King County. It is sponsored in part by King County Metro, Titan, Seattle Theatre Group, KUOW 94.9, and The Stranger.
ABOUT KING COUNTY METRO TRANSIT
Metro Transit serves more than 1.9 million area residents who take approximately 400,000 trips each day. It is one of the top ten largest public bus systems in North America. RapidRide is Metro Transit's new bus rapid transit service. Launched between 2010 and 2014, RapidRide provides streamlined access in the form of frequent all-day bus service.
ABOUT TITAN
Titan is a full service multimedia company whose passion is "people in transit." Titan is the contracted media services provider for Metro Transit, and through their Titan Cares Program is a partner in Poetry on Buses.