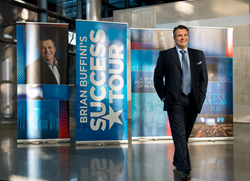 "It's about doing less busy work, doing more important work and doing it better!" Brian Buffini
Carlsbad, CA (PRWEB) April 08, 2015
Buffini & Company hit the second stop of Brian Buffini's 2015 Success TourTM on April 1-2 at the Greater Richmond Convention Center. With thousands in attendance in-person and in live broadcast locations, the Company continued to set unprecedented attendance records for real estate and small business training events.
Brian Buffini, Chairman and Founder of Buffini & Company, offered powerful, personal and often humorous insights into how to take your business to the next level. "It was a packed house in Richmond! 2,000+ real estate pros ready to learn, laugh and get the tools they need to have their best year ever!" said Brian. "It's about doing less busy work, doing more important work and doing it better!"
Guest speakers Nido Quein, High Point University's President, delivered a potent session on how to live not just a good life, but an extraordinary life, while renowned personality Les Brown, brought the house down with his amazing presentation on what you need to do to live your dreams regardless of your circumstances.
For twenty years, Buffini & Company has impacted and improved the lives of people by teaching a unique and highly-effective lead generation system along with comprehensive business coaching and training programs designed to help people reach their full potential, both professionally and personally.
"Our message and our system is simple but powerful," says Dermot Buffini, CEO of Buffini & Company, "If you want more high quality clients, if you want to work smarter and earn more, and if you want to achieve more work-life balance, we can help you get there. And, the 2015 Success Tour is a perfect first step."
Brian Buffini's 2015 Success TourTM next stop is San Jose, CA, on June 23-24, at the San Jose Convention Center. This event will feature guest speaker and extraordinary artist, Erik Wahl. Like all Success Tour stops, this event can be attended in-person or via live broadcast.
For additional information, visit http://www.buffiniandcompany.com