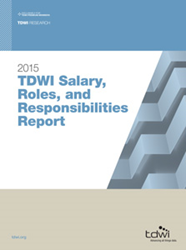 Certifications continue to be important in calculating salaries. On average, employees with four or more certifications earn $20,000 more each year.
Seattle, WA (PRWEB) April 08, 2015
Results from the 2015 TDWI Salary, Roles, and Responsibilities report have been released. According to the report, the average wages for full-time salaries of business intelligence (BI) employees rose 3.5 percent last year, from 106,216 to 109,933 -- setting a new high for the survey. The raise comes after a 0.6 percent decline the previous year. The median salary ($107,000) is up 2.9 percent from 2013. Bonuses were relatively flat, rising only $122 per year in the last 12 months (to an average of $14,624 annually).
Key Findings
Salaries of male employees, who made up 72 percent of respondents, averaged $115,015, over $12,500 higher on average than female respondents. The percentage of male and female respondents is exactly the same as it was back in 2010, though the wage disparity was slightly less than $8500 in the earlier survey. "More men than women received bonuses, 66 percent to 58 percent, with those proportions unchanged from 2013," the report points out.
Many survey results haven't changed significantly, however. For example, the size of full-time staff on a BI team remains roughly the same as in 2010: 59 percent of teams have six or more full-time BI professionals last year (up from 56 percent five years earlier). Job satisfaction has remained strong. Last year, half of respondents said their job satisfaction was high or very high, the same as results from TDWI's previous three surveys.
Certifications continue to be important in calculating salaries. On average, employees with four or more certifications earn $20,000 more each year. The maturity of the workplace also makes a difference. For example, 18 percent of respondents said they worked in a "beginner" environment -- where the enterprise is getting serious about BI for the first time; this group earned on average just over $100,500. BI professionals in "advanced" environments (where an enterprise manages a mature BI environment that delivers significant business value) made up 37 percent of survey respondents and earned $17,000 more each year than did "beginners."
A mature environment isn't the only reflection related to age measured in the survey. The average age of respondents was 43 years; those aged 46 and above rose to 40 percent in this survey, up from 35 years in the previous year's survey. Those 25 years and younger made up a tiny sliver (2 percent) of respondents.
The report tracks average salary changes for the last five years, as well as salary and bonus trends, and includes breakdowns of salary by industry, company revenue, company size, and region. The report breaks out results for 10 specific job titles, presenting annual salary and bonus, age of employee, years of experience and years working at the same company, among other facts.
Survey Respondents
The 2015 TDWI Salary, Roles, and Responsibilities Report tallied responses from 1057 qualified data warehousing and business intelligence professionals in the U.S. and Canada; the survey was conducted last fall. Qualified respondents included full-time IT and BI professionals (81 percent of the sample) as well as consultants, systems integrators, and business sponsors or users; responses from vendor representatives in sales, marketing, and development were discarded, as were surveys from professors, students, and part-time employees.
More details are available in the full TDWI Salary, Roles, and Responsibilities Report. The annual salary survey report is available as a member benefit to TDWI Premium Members. More information about Premium Membership is available at http://tdwi.org/pages/membership/tdwi-member-benefits-in-depth.aspx.
About TDWI
TDWI is your source for in-depth education and research on all things data. For 20 years, TDWI has been helping data professionals get smarter so the companies they work for can innovate and grow faster.
TDWI provides individuals and teams with a comprehensive portfolio of business and technical education and research to acquire the knowledge and skills they need, when and where they need them. The in-depth, best-practices-based information TDWI offers can be quickly applied to develop world-class talent across your organization's business and IT functions to enhance analytical, data-driven decision making and performance.
TDWI advances the art and science of realizing business value from data by providing an objective forum where industry experts, solution providers, and practitioners can explore and enhance data competencies, practices, and technologies.
TDWI offers five major conferences, topical seminars, onsite education, a worldwide membership program, business intelligence certification, live Webinars, resourceful publications, industry news, an in-depth research program, and a comprehensive website. For more information, visit tdwi.org or follow us on Twitter @TDWI.
About 1105 Media
1105 Media, Inc., is a leading provider of integrated information and media in targeted business-to-business markets, including specialized sectors of the information technology community; industrial health, safety, and compliance; security; environmental protection; and home healthcare. 1105's offerings span print and online magazines, journals, and newsletters; seminars, conferences, and trade shows; training courseware; and Web-based services. 1105 Media is based in Chatsworth, CA, with offices throughout the United States.
###
Media Contact:
Chris Jamieson, TDWI
cjamieson(at)tdwi(dot)org | 425.277.9182