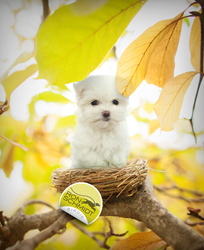 Hours of thought, meticulous planning and work goes into ensuring every image tells a complete story.
(PRWEB) April 24, 2015
Loose Leashes by Ron Schmidt announces record-breaking growth, new licenses and images for 2015, which includes a new spring release of several new images with a whimsical springtime feel.
Enjoying more than 150 percent growth over two years, Loose Leashes by Ron Schmidt is running wild. The company contributes increased distribution channels and new images to its latest success. Two new, large distribution avenues for the company include Hallmark's Sunrise Greetings, which partnered with the US Post Office's to sell greeting cards, as well as its two books published by Random House, "Loose Leashes," which sold 40,000 copies and the second book, "Dog-Gone School," Which sold nearly 100,000 copies.
In addition to its U.S. success, in 2014 Loose Leashes signed on with JELC, a United Kingdom-based licensing agency led by Jane Evans and Janet Woodward, for representation outside of North America. In the past six months agreements have been signed in Russia and Germany for stationary and school products.
"We attribute our success with Loose Leashes to our unique concept and choice of breeds. Hours of thought, meticulous planning and work goes into ensuring every image tells a complete story. These stories, using the most popular breeds, are resonating with dog lovers and companies alike," said Ron Schmidt, photographer and creator of Loose Leashes. "Of course, the viral love of dog and puppy videos on social media helps keep dog lovers coming back to Loose Leashes." Driving home that point, as of February 2015 Loose Leashes Facebook page has more than 100,000 fans.
A schedule of up to six months leads up to capturing the perfect concept image, and every Loose Leashes photo has a very planned out beginning, middle and end to it. Attributing its success to the level of detail in every concept—in story, scene and type of dog—Loose Leashes uses only breed specific models, timeless or vintage props, memorable settings and scenery to capture one, complete story. Planned out to the minute detail, no image is captured unless there is a strong beginning and progression to the story. A good example of this is the Lewie & Clark photography series, showcasing the adventures of the adorable duo, Lewie and Clark, a white and black Labrador retriever team.
About Loose Leashes by Ron Schmidt
Ron's love of photography started at age 9 with an old camera that his Uncle Russ gave him for Christmas. That day, he snapped his first dog photos of his border collie, Niki, and he hasn't stopped taking pictures since. Ron went on to study photography, graduating from Brooks Institute in Santa Barbara, California, and then spent a number of years working in New York City assisting high profile fashion and celebrity photographers. Launched in 2006, Loose Leashes by Ron Schmidt's whimsical and timeless images have captured the hearts of dog lovers worldwide. Ron's work can be found on products throughout stationery, home décor and publishing categories.
Loose Leashes publishing and retailer partners include Random House, Hallmark, Sunrise Greetings, L.L.Bean, Barnes & Noble, Orvis, United States Postal Service, and Plow & Hearth to name a few. In addition to licensing, Loose Leashes have published two books, "Loose Leashes," in 2009 and "Dog-Gone School" in 2013, both by Amy & Ron Schmidt. A strong believer in giving back, Ron donates a portion of proceeds from all sales to support pet shelters and animal welfare causes throughout the US. His images can be found on products throughout stationary, home décor, apparel and publishing categories.
To see more of Ron's work, visit his web site at http://www.looseleashes.com and connect with us on Facebook, Twitter, Instagam and Pinterest.
CONTACT for licensing – Amy Schmidt, licensing(at)looseleashes(dot)com or 1-732-737-4526