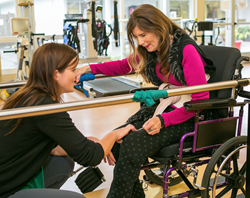 We are dedicated to providing only the best care to our patients.
Seattle, Washington (PRWEB) April 29, 2015
With nearly 16,000 nursing homes and over 1.7 million licensed beds in the country, it can be a challenging task narrowing down which location is the best place for rehabilitation for you or your loved one. Questions including "Where will I feel comfortable and well taken care of?" "Does this location have staff that will treat me like family and not just a patient?" "Is the food good here, and is this facility clean?" often arise and remain unanswered only to be discovered after admission.
Many factors come into play when posed with making such an important decision. The federal Centers for Medicare & Medicaid Services (CMS) proctor unannounced surveys throughout the year that rate each location based on health inspections, nursing staff, and quality measures. A rating of stars, one to five (one being the lowest and five being the greatest), is given to each facility that is surveyed based on their results. In an effort to help sort through the data, U.S. News & World report has compiled a list of all facilities displaying their star ratings given by CMS. The seventh annual "Best Nursing Home" report can be found by visiting http://www.usnews.com/best-nursing-homes.
At the top of the list is Burien Nursing & Rehabilitation Center, a client facility of North American Health Care, Inc. Medicare has given 32 of 36 facilities serviced by North American Health Care a five-star rating. Approximately 20 percent of all skilled nursing facilities in the United States will achieve this level of success. No other similar organization in the United States has consistently achieved this level of patient care.
"At Burien, we are dedicated to providing only the best care to our patients," said Lynda Baldwin, Administrator of Burien Nursing & Rehabilitation Center. "Our staff has placed an emphasis on creating a thriving environment that is flexible to meet the needs of our patients and their family members."
Residents are highly complimentary. "You are a top notch facility with a very caring staff" and "You have made a great difference in his life. He is happy, healthier, grateful and optimistic all because of you. This is the stage in his life where we have seen him more content and entertained. The Bingo and other games are his favorite activities, and he talks about his many friends he has made here. We are so grateful to have found the most caring and professional place for my father" are some of the more recent testimonials that speak to the care and culture of Burien Nursing & Rehabilitation Center.
Additionally, in a recent article in the Puget Sound Business Journal, Burien was highlighted as one of Seattle's best nursing homes. For more information about Burien Nursing & Rehabilitation Center, please visit burienrehab.com.
About Burien Nursing & Rehabilitation Center
At Burien Nursing & Rehabilitation Center, caring is the main concern. They believe the most effective way to provide compassionate care is to maintain high medical integrity, build a team spirit among staff, and provide friendly, beautiful surroundings for patients and their visitors. The team of qualified professionals helps patients recover from surgery, injury, or serious illness. Burien Nursing & Rehabilitation Center understands the importance of creating a comfortable and nurturing atmosphere, whether patients are there for short-term treatment or long-term care.
About North American Health Care
The main goal at North American Health Care, Inc. is to assist their client-serviced facilities in providing five-star patient services for every person served. Their client-serviced facilities' ratings reflect the organization's commitment to excellence in patient care, which includes the desire to provide every individual serviced a dignified experience.