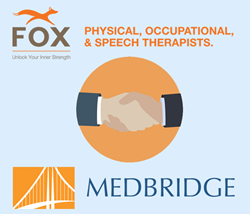 If you give people the tools they need, they will never cease to amaze you.
Cherry Hill, NJ (PRWEB) April 09, 2015
Fox Rehabilitation has partnered with MedBridge, a leader in online continuing education courses, to adopt a continuing education and healthcare credentialing platform for its clinical and business operations teams.
In collaboration with MedBridge, Fox's goal is to provide its clinicians with a clinically excellent curriculum of effective, evidence-based educational programs to enhance patient intervention and outcomes.
"I believe that if you give people the tools they need, they will never cease to amaze you," said Tim Fox, PT, DPT, GCS, Founder and CEO of Fox Rehabilitation.
"This partnership is all about value: value to our clinicians, value to our patients, and value to our partners," said Travis King, PT, DPT, GCS, Vice President of Quality Assurance and Professional Development at Fox Rehabilitation. "MedBridge leverages innovation with industry leading speakers in the fields of physical therapy, occupational therapy and speech language pathology. We are in an environment where superior clinical outcomes are the foundation to a successful healthcare organization. I feel confident that MedBridge is the right partner to assist us in building on our already strong clinical foundation of clinical excellence."
The MedBridge system has been fully customized for Fox's needs with the addition of a mobile app that is coming later this year for improved usability and enhanced clinical access.
"Fox is widely recognized as a leader in the private practice field for supporting its members in their ongoing professional development and elevated patient care," said Justin Kowalchuk, CEO and Founder of MedBridge. "We've had the unique opportunity to create custom curriculum and software functionality specifically to meet Fox's needs. We're excited that our partnership provides Fox Rehabilitation access to the highest quality clinical and patient education to continually develop clinical expertise and help improve patient outcomes."
About Fox Rehabilitation
Fox is a high growth entrepreneurial private practice of physical, occupational, and speech therapists that provides proactive, clinically excellent and evidence based treatment interventions to the older population. FOX was build on the strong clinical foundation of Geriatric House Calls™, and throughout its growth, the practice has stayed true to its mission of rehabilitating lives by believing in the strength of people. For more, see http://www.foxrehab.org.
About MedBridge
MedBridge is the leading provider of evidence-based online education for rehabilitation professionals to provide the best patient care. MedBridge combines a sophisticated blended learning platform with cloud-based performance reporting, accredited curriculum taught by award-winning instructors, effective patient education tools, and the industry's most elite home exercise platform. Learn more about our dedication to improving patient outcomes through lifelong learning at http://www.medbridgeeducation.com.