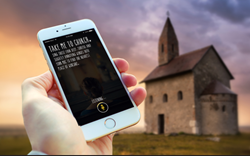 Cleveland, OH (PRWEB) April 08, 2015
There's been a lot of talk about getting to church as of late. Yet, there's one question that still lingers: How on Earth do we get there? Enter the new mobile app "Take Me to Church". It combines voice recognition technology, location-based tracking and the Uber API to create a fun-to-use experience for fans, churchgoers, singers and sinners alike.
A user need only speak or sing the app's name into his or her mobile device and it lights the way to the closest churches, cathedrals, synagogues, mosques and temples. Once an ideal place of worship is selected, the app highlights the quickest route to your devotional destination. The app also seamlessly integrates with the on-demand transportation service, Uber, to do exactly what it says it will. We serve up approximate time and cost, you simply hit the button to order up your ride.
"Like most people, we've had those four little words stuck in our heads for months," said Chad Milburn, Lead Creative Technologist at Recess Creative, the Cleveland-based advertising agency that dreamed up and built the app. "Ultimately, it was about doing something constructive and fun with all that pent up energy."
Far from their first foray into app building, "Take Me to Church" comes off the heels of Recess's other mobile achievements. One of the agency's apps, a Bluetooth-enabled monitor for lawnmower manufacture Cub Cadet, was named a finalist in the Bluetooth Breakthrough Awards at the 2015 Consumer Electronics Show in Las Vegas, Nevada.
"Not only is this a great way to showcase our abilities as an agency, but it also helps everyone atone for some of the musical choices they've made in life," said Tim Zeller, Chief Creative Officer at Recess. You can learn more and download "Take Me to Church" at http://www.recesscreative.com/take-me-to-church.
About Recess:
Recess Creative is a full-service digital advertising and integrated marketing agency based in Downtown Cleveland. Right now we're probably hard at work on our next mobile app, designing a solid brand strategy or playing some kickball. You know, a typical day at the office. It's our mission to invent experiences that use the language of play to emotionally connect brands to their audiences and deliver results. Our clients include KeyBank, SONY Pictures Television, The Cleveland Airport System, Iron Chef Marc Forgione and MTD Products. For more information or Recess Creative, visit http://www.RecessCreative.com.