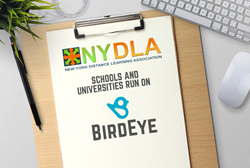 Online reviews and ratings have revolutionized the way businesses acquire new customers — and the trillion dollar education market is no exception.
Sunnyvale, CA (PRWEB) April 08, 2015
BirdEye, a leader in reputation marketing, announced today its partnership with the New York Distance Learning Association (NYDLA), a leading association for distance learning organizations. With BirdEye, NYDLA now offers state-of-the-art reputation marketing for its member universities and K-12 institutions across the US. The partnership brings together emerging leaders in fields dominated by technological innovation and customer focus.
Prior to the advent of online education, selecting education providers was predominately influenced by geographic proximity. Physical distance prescribed, and limited, student options. Now, with the general availability of online and distance learning, competition to enroll students is heating up beyond local, regional, and even national boundaries. Distinguishing one learning organization from another is no longer a matter of proximity, but of strength of curriculum and faculty. And how are these strengths validated? Today, by modern day word-of-mouth — online reviews.
"Online reviews and ratings have revolutionized the way businesses acquire new customers — and the trillion dollar education market is no exception," said Thomas A. Capone, Executive Director of the NYDLA. "We are excited to partner with BirdEye to offer our members state-of-the-art tools to gather and manage student reviews and market their positive reputation. With BirdEye, our members have access to advanced enterprise and competitor analytics to glean insight from student feedback across the Internet."
"The NYDLA.org and USDLA.org are great partners for us as we expand in the education market," said Naveen Gupta, CEO of BirdEye. "Millions of members rely on NYDLA.org to identify innovation trends and recommend best tools, and we're thrilled that they have selected BirdEye as their reputation marketing partner. Now, universities and K-12 institutions can incorporate student feedback into their programs, and can separate from the pack to acquire new customers and loyal advocates."
Availability
To get a personal tour of the BirdEye platform, call sales at 1-800-561-3357 or email sales(AT)birdeye.com. The BirdEye Business Reputation Management platform can be previewed at http://birdeye.com.
About BirdEye
BirdEye (birdeye.com) is a leader in Business Reputation Marketing. The BirdEye platform allows businesses to amplify their online reputation to get more word-of-mouth referrals, leads, and repeat customers. Businesses monitor reviews from all major sites, gain new reviews, manage customer feedback, and automatically promote their good reputation across the web, social media and search engines. Enterprises use BirdEye analytics and competitive insights gleaned from customer feedback to fine-tune products, services and operations. The BirdEye platform powers 500K businesses and 10M+ reviews. Based in Sunnyvale, CA, BirdEye was founded by alumni from Yahoo, Google, Amazon and Cisco.
About New York Distance Learning Association (NYDLA)
NYDLA (nydla.org) was founded to create a powerful alliance to meet the burgeoning education and training needs of learning communities via the fusion of communication technologies with learning in broad multidisciplinary applications. NYDLA aims to be the premier distance learning association in the United States and beyond. Whether it is distance learning via satellite, video conferencing, online or other means of distribution, NYDLA provides learners with the latest information about technology development, design and application at anytime and anywhere.
For more information, contact William Moeller
william(at)birdeye(dot)com | 408.457.1348 | 800.561.3357 | http://birdeye.com