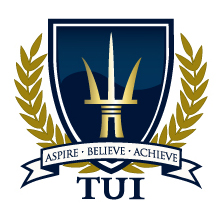 Our redesigned website reflects the obligation we have to the our community. It's our goal to offer a best in class experience each time we interact with students, and this redesign is a key example of that commitment. - Andy Vaughn, President & CEO.
Cypress, CA (PRWEB) April 08, 2015
After more than a year devoted to research, design, and testing, Trident University International(Trident) recently launched an all-new, fully-redesigned, mobile optimized website. This project was a complex cross-functional effort that involved support from the entire university community, including over twenty committees made up of key staff members, faculty, program directors, students, alumni, information technology, and outside creative and technical agencies, including OnIt Digital and Converge Consulting.
"Our redesigned website reflects the obligation we have to the entire Trident community. It's our goal to offer a best in class experience each time we interact with a current or potential student, and this redesign is a key example of that commitment," said Andy Vaughn, Trident President and CEO.
The new Trident site offers an industry best user experience by streamlining the pathway to important site destinations like online degree programs, admissions, a military and veteran student gateway, and easy access to the Trident Learning Community, which is the portal for currently enrolled students.
The redesign process was guided by research on the expectations of the prospective student while looking into an online program. Focus group and research findings directed Trident to organize the new site by degree level because most new students know what degree they need but not which program they should enroll in.
Discovery and research on the project began in 2013 through interviews of many key Trident stakeholders to help define how the site was being used and where it was falling short, allowing everyone involved in the project to understand how to best achieve the optimal user experience. Using these insights, the dedicated team was able to bring Trident's value proposition to life by providing an excellent online experience for current and future students.
Through the use of an advanced, streamlined content management system (CMS), stakeholders across the university will now play a part in the addition and upkeep of the information that is important to potential Trident students, as well as its 25,000+ strong community of students and alumni. Additionally, the use of dynamic content modules allows content managers to control information by page. This enables the website to quickly meet the needs of a diverse student body by communicating up to date and relevant information, news, and events in an easy to read manner.
As a further enhancement, the website is now fully supported across multiple devices, configured to automatically scale to a variety of smartphones and tablets. This is especially important as an increasing number of users are now visiting the website using devices like smartphones and tablets.
"At Trident University, we are committed to our student success. Over the past several years we have seen our site traffic migrate from desktop to mobile but until now our site was not mobile optimized," said Brandon Rowe, Trident's Digital Marketing Director who led this project. "Year over year mobile traffic to Trident's site has increased 34% and we need to be prepared to accommodate this traffic."
Trident is regionally accredited by the WASC Senior College and University Commission.
For any media inquiries, please contact Daniel Sloan at daniel.sloan@trident.edu.
About Trident University
Founded in 1998, Trident University International (Trident) is a leading online postsecondary university serving adult learners. Trident developed the Trident Learning Model, which employs case-based learning in an online setting to teach real-world relevant critical thinking skills to enhance the lives and careers of students. Trident offers high-quality bachelors, masters, and doctoral degree programs, led by a qualified faculty team, over 80% of who have doctoral degrees. Visit http://www.trident.edu, Trident's Facebook page, or call at (855) 290-0290 to learn more about Trident's wide range of bachelor's, master's, and doctoral programs.