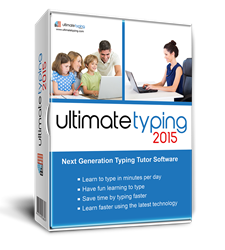 Those people who are professionally trained to touch type don't overload one hand at the expense of the other.
New York City, NY (PRWEB) April 09, 2015
In a recent article on the Ultimate Typing blog, eReflect shares the results of a study whose findings prove the association of letter position on a QWERTY keyboard and a person's attitude towards the concept, person, or brand the word represents.
Touch typing for many people is an activity that's done automatically, and without much conscious effort put into it. People don't always think about what they're typing when they type; but this study reveals that even at an unconscious level, the keys a person needs to press to touch type a word affect that person's liking or disliking of the thing or topic they're writing about. Citing the study by K. Jasmin and D. Casanto, the Ultimate Typing editor explains the keyboard-attitude theory.
"If your name is typed using mostly left-hand keys, then people are more likely to have an unconsciously negative bias towards you," the eReflect representative states. "On the other hand, if your name (take "John" for instance) can be typed out using mostly right-hand key strokes, then people will be more positively influenced. The study showed that this subliminal disposition applies whether a person is typing a name, writing something about a specific subject, or simply typing out a word."
Because the left hand handles 15 keys, its burden is much more stressful than the load the right hand has to handle (only 11 keys). That's why words that only require right-hand movement are typed more easily and quickly. This purely technical aspect of key allocation for each hand seems to explain people's disposition toward the words they're typing, and the things or ideas those words represent.
For those who improve typing skills, however, this is not the case, as eReflect's editor argues. Those people who are professionally trained to touch type don't overload one hand at the expense of the other. The workload carried by both hands is even and efficient, because the person has mastered the touch typing technique of accurate and fast touch typing. Hand dominance doesn't play such a big role in how efficiently such a person touch types, simply because this is a skill learned from the ground up and both hands are given due attention and training. For anyone who has concerns about the keyboard-generated bias described in this study, typing skills improvement might be the answer, concludes the eReflect representative.
*********
For more details on Ultimate Typing™ please visit http://www.ultimatetyping.com/.
For more details on Ultimate Typing™ EDU please visit http://www.ultimatetyping.com/schools.
About Ultimate Typing™
Ultimate Typing™ software is designed specifically for the improvement of typing skills. Created by eReflect, a world leader in e-learning and self-development software, Ultimate Typing™ has been informed by the latest developments in the science of touch typing.
Since its creation in 2006 by Marc Slater, the company has already catered to over 112 countries all over the world, offering products with the latest cutting-edge technology, some of which are among the world's most recognized and awarded in the industry.