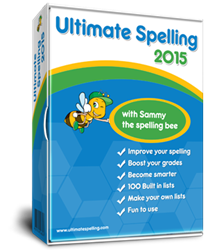 One of the best spelling software products available in the market...
New York City, NY (PRWEB) April 10, 2015
The Ultimate Spelling editor features handpicked reviews of the program in a new blog post. Reviews by Vocabulary.co.il and Top Ten Reviews illustrate the features of the program and its potential to help people build better orthography skills, whether for school or for their professional lives.
In their Ultimate Spelling review, the Vocabulary.co.il editor attests that the spelling tutor software has an interface that other programs will find hard to match, and also has the right features to make learning to spell easy. The simplicity of the program is repeatedly highlighted n the review, and is cited as the number one quality of the program that make it so appealing and fun for users young and old.
Top Ten Reviews' evaluation of the program is also featured in Ultimate Spelling's latest post. The editors at the prestigious review organization stress that the program is both entertaining and useful, as it offers the opportunity to improve orthography through fun and expert-designed activities and spelling games. The reviewer highlights the elements of user support, extensive features, and the program's extra resources and activities as a winning combination of tools. eReflect adds these handpicked tools is what allow spellers to confidently say, "I spell well" after a few weeks of practice.
A homeschooling parent's review is also featured on this post. The Living and Learning at Home homeschooling parent says of the program, "One of the best spelling software products available in the market is Ultimate Spelling." The praise by the Living and Learning At Home reviewer is similar to that offered by Software Review Boffin and the English Language Skills resources site. Both point out the importance of ease of use and a variety of activities in creating an appealing learning experience for the user.
Software Review Boffin awards a five-star rating to Ultimate Spelling, accompanied by an enthusiastic statement of support, saying, "They [eReflect] have specifically focused on creating a piece of software that actually makes kids want to learn, without it feeling like a chore or like homework. They have completely done away with traditional classroom methods of learning spelling, in favor of much more lively and fun activities."
***********
For more information about how Ultimate Spelling software can improve spelling performance for you and your family, please visit the official website at http://www.ultimatespelling.com.
About Ultimate Spelling™
Ultimate Spelling provides a modern and easy to use spelling software that has been designed with one goal in mind – making children want to learn.
It is a fast and easy way to master even the most complicated spelling, without the need to write long lists or complete boring tests.
In fact, Ultimate Spelling provides more than just spelling help. It is a complete educational resource that boosts all level of a child's literacy.
Containing a personal computer tutor, Ultimate Spelling is the most realistic step-by-step guide to flawless spelling ability.