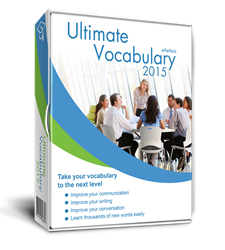 ... an innovative solution for schools that want to help young students improve their literacy through a rich and extended vocabulary.
New York City, NY (PRWEB) April 11, 2015
eReflect, developer of Ultimate Vocabulary EDU, announced today that the specialists behind Engaging Web Apps consider the program to be an innovative solution for schools that want to help young students improve their literacy through a rich and extended vocabulary.
In an in-depth review of the program, Engaging Web Apps, an online portal that helps students find the online tools and applications they need to improve their learning, confirms that Ultimate Vocabulary EDU offers grade-appropriate and test-centered word lists that save time and effort for students and enable them to be well-prepared for high-stakes exams and class quizzes.
The EngagingWebApps.com editor explains that the program offers a rich learning experience for the user, because they are presented with complete word information for every word at hand, from synonyms and antonyms to pronunciation and real life usage examples. This wealth of resources ensures complete mastery of new vocabulary and immediate implementation in the user's spoken and written language.
The scientifically-designed games and activities motivate students to learn by giving them status points for every milestone completed. What is more, interval-based repetition of learned words enables students to truly acquire new vocabulary they can easily and correctly use in their communication. Engaging Web Apps emphasizes the flexible licensing options offered by eReflect as well as its no-cost 30-day trial for schools and study groups that want to see firsthand the potential of the program to improve vocabulary and communication skills in young people.
Ultimate Vocabulary EDU is a vocabulary program tailored especially for schools, and designed to make class administration effortless for instructors. Educators will appreciate the program's ability to offer tools for group and individual student management that help pinpoint weaknesses in individual students the instructor can focus on improving. Some of the possibilities the vocabulary improvement program provides are highlighted by the reviewer:
"instantly see which students need more practice in specific areas
have the ability to assign group leaders to provide peer-level support in class
effectively work with advanced placement, ESL, and remedial students
monitor student use of the system to verify that assigned practice is completed."
The comprehensive review by Engaging Web Apps perfectly illustrates the hard work invested by eReflect in creating a curriculum-compatible program for schools that help teachers improve literacy and student academic performance through fun and expert-designed vocabulary activities, eReflect's spokesperson commented today.
***********
For more information on how you can benefit from Ultimate Vocabulary, please visit its official website, http://www.ultimatevocabulary.com.
About Ultimate Vocabulary™
Ultimate Vocabulary provides a proven and powerful platform, built to improve anyone's vocabulary.
The interactive self-improvement system provides more learning tools than any other program on the market, as well as more information on words.
The Ultimate Vocabulary software provides each and every user with a personal computer tutor. Providing a step-by-step guide to learning a powerful vocabulary, Ultimate Vocabulary is the learning tool everyone can benefit from.
Of course, the software is also backed by eReflect's iron-clad money back guarantee.