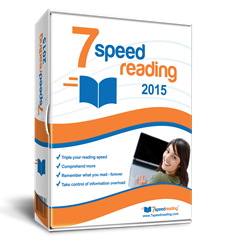 People have different reading skills and reading goals, both of which contribute greatly to the reading competency they end up having.
New York City, NY (PRWEB) April 12, 2015
eReflect shares the results of an experiment carried out by The Crab & The Medicine blogger, Max. Max has used 7 Speed Reading™ and has improved his reading speed skills, a process he documented in a two-part blog series. In this report, Max shares the steps he followed and the results of his practice, concluding that the program allowed him to improve his reading speed from 500wpm to 700wpm.
In the two-part blog post, Max documents his journey toward better reading skills, starting by clarifying the fact that 7 Speed Reading™ helps people read faster, but that it doesn't work the same for everybody. People have different reading skills and reading goals, both of which contribute greatly to the reading competency they end up having. Max charts his reading improvement over the experiment, noting,
"In the first few weeks I practised every day, then I reduced my training to 3 times a week for about 20 minutes per session. Now, several weeks later, my reading speed has reached about 700 WPM, maintaining a 80% comprehension level."
During his self-paced experiment on improving reading speed through 7 Speed Reading, Max discovered that the better a person's vocabulary is, the greater their reading speed potential. If a person has a limited vocabulary in English, they will often stumble over unknown words. This is something that compromises comprehension, and also slows down the reading pace.
Max explains that it is possible to learn how to speed read without a software program or web tool. However, as he notes, programs like 7 Speed Reading™ offer a more structured and focused approach to speed reading. They let the learner focus on the specific aspects of reading that need improvement, such as regression avoidance, word cluster reading, and pace training. Max explains,
"If you are new to speed reading, you can improve your reading speed quite a lot just by learning to apply its basic principles."
eReflect shares Max's journey of learning to speed read on the official 7 Speed Reading™ blog.
************
For more information about the benefits of using 7 Speed Reading, please visit the official website at http://www.7speedreading.com.
About 7 Speed Reading™
7 Speed Reading is the only modern speed reading software that uses the latest technology to produce superior results.
The software provides its users with a new way to master speed reading that guarantees three times the reading speed along with improved memory and comprehension.
The software is poised as the most comprehensive speed reading system anywhere. It contains seven learning strategies, fifteen software activities, video training, advanced tracking capabilities and many more exciting features.