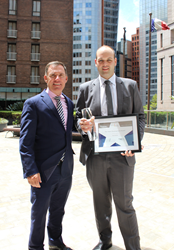 Sydney, Australia (PRWEB) May 30, 2015
They say "Do something you love and you'll never work a day in your life" – and this couldn't be truer for newly appointed Executive Chef of Bacar Restaurant at the Pullman Sydney Olympic Park Ben Nicholls.
Recent winner at the Accor Excellence Awards, taking home the "Talent Development" Award, Ben was chosen by a panel of Accor Executives for his astonishing technical skills and unparalleled levels of innovation. Leading his team with extensive experience and natural abilities, Chef Ben is one of the most sought after Chefs in Accor – making him a deserving winner of this award.
At only 25, Ben has worked for 4 years in the Qantas First Class Lounges (which are operated by Sofitel), at the Mercure Parramatta, and also Hamilton Island where he gained some valuable cooking experience before moving back to Sydney and settling in to the Pullman at Sydney Olympic Park. Ben claims his most recent time in the park is where he's gained awesome experience and worked under some great people, leading to his nomination and selection for this award.
With Sydney Olympic Park being a unique hub for many major Sydney events, Ben feels his team has the opportunity to really make a difference to their guest's experiences by creating something they won't forget. Speaking of his most recent dish his team created for Valentine's Day, he feels it was a real winner "...Honey glazed, duck breast with quinoa, celery leaf, pear & beetroot, it's not my signature dish but it's something the team were very proud of".
As for his future plans, his first answer was to continue developing his team and the product they produce day in day out, "You never know what's around the corner, the best part of my job is teaching those around me and inspiring them on a daily basis – I love being creative".
Needless to say, staff at the Pullman at Sydney Olympic Park are very proud to have Ben Nicholls leading their stylish & chic Bacar Restaurant which is guaranteed to be loved by guests too! Hence, for awesome restaurants in Sydney - call (02) 8762 7959 to experience the difference of Bacar Restaurant today.