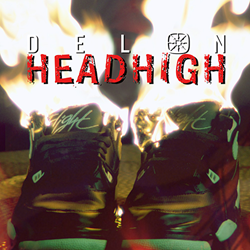 Me I'm from Sri Lanka, this is for my Asians. I represent a pride, history in the making!
Los Angeles, California (PRWEB) April 08, 2015
DeLon is an artist/producer from Los Angeles whose main goal with his music career is to make a positive change and fight against suppression. With his new single 'Head High', he was chosen as a finalist in the International Songwriting Competition held in Nashville, TN. In the video, DeLon sets a pair of fresh Nike Air Flights '89 on fire making a clear statement that he's against the stereotyping in hip-hop. In a culture where sneakers have long been hip-hop's footwear of choice, the wrong message has been communicated that what you wear, how you talk, and where you come from are the elements you need to be a "hip-hop" artist. In his new single 'Head High' DeLon affirms that what you say, how you flow, and what you stand for are the true elements of hip-hop.
Why is it so cool that specifically 'Head High' was nominated as one of the top 2% of 18,000 entrants in the International Songwriting Competition? In many cases the Music Industry is still discriminating towards people who don't fit into a certain image. This means that people are not only excluded if they're different from what is expected, but also that as a rapper there's a lot of peer pressure to dress and behave a certain way. DeLon won't stand for this bullsh*t. His goal is to liberate music by making it accessible to everybody and to give young people the courage to live their dream. It's very narrow-minded and extremely outdated to believe that a certain look, style or stereotype has to be maintained in order to have success in a certain industry. No matter which continent, country or city they come from, if they're poor or rich, if they look a certain way or another, there's no single thing in this world that can keep anybody away from achieving his/her vision. It only requires one thing: to believe in yourself. The secret sauce is to never give up your dream, to be confident and persistent despite all opposition. This is the powerful message of 'Head High'.
The music video for 'Head High' features some of his non-conforming friends with the intention to represent an atypical group of hip-hop lovers. With being a Los Angeles native and still supporting his country of origin, DeLon shows that this is one world and we all live in it together.
Apart from writing song lyrics that express important values like tolerance and anti-sexual objectification of women, DeLon, although still at the beginning of his career, is taking action. Through his non-profit organizations he is working to improve education of the youth worldwide.
If you want to support DeLon in this competition, you can vote here ISC People's Voice. 'Head High' and more of his original songs are available on his Website or iTunes.