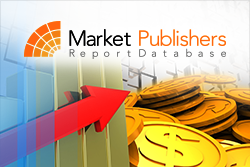 London, UK (PRWEB) April 08, 2015
Market Publishers Ltd is happy to inform that cutting-edge insightful studies prepared by QYResearch have been recently added to its catalogue.
2015 Deep Research Report on Global Siloxanes Industry. The research report includes an all-encompassing overview of the global siloxanes market alongside with definitions, classification, applications analysis, market chain structure analysis, news analysis, etc. It also offers an assessment of the market dynamics and price fluctuations, examines growth drivers, challenges and restraints. Furthermore, the report covers the leading suppliers of siloxanes including their contact information. Granular forecasts (including capacity, production, cost, price, profit, production value, etc.) for the global siloxanes market through 2020 are at hand in this research report.
2015 Market Research Report on Global Blood Product Industry. The study analyzes the global blood product market scenario, provides data on the market value, size, structure, dynamics, forecasts and segmentation. The study discloses data on new projects, contains SWOT analysis, investment feasibility and investment return analyses, and also covers development trends. The work investigates the competitive landscape and also unveils factors shaping the world blood product market. The report highlights the future growth prospects of the market through 2020. The research report analyzes the global blood product key manufacturers and includes comprehensive profiles of the major players.
2015 Market Research Report on Global Peritoneal Dialysis Solution Industry. This in-demand research publication examines the world market for peritoneal dialysis solution. The study suggests a review of the key market trends, driving factors as well as challenges and restraints. Additionally, the report identifies the dominant market players and provides their contact information. The study also provides a comprehensive assessment of market dynamics and structure. The report offers an insightful future outlook for the market till 2020. Baxter, Fresenius, Nikkiso, TERUMO CORPORATION, Shanghai Changzheng Fumin Jinshan Pharmaceutical Co and Kelun Group are amid the key manufacturers profiled in the study.
2015 Market Research Report on Global Polyethylene Terephthalate (PET) Industry. The research report provides a thorough analysis of the worldwide polyethylene terephthalate (PET) market. The report draws a clear picture of the market scenario, provides PET definition, classification, application analysis and industry chain structure analysis, etc. The work describes product specification, manufacturing process and product cost structure. Forecasts for the global PET market (including capacity, production, cost, price, profits, production value, etc.) up to 2020 are also provided in this research report. Additionally, the publication unveils valuable information on PET key applications and consumption, key global distributors, major raw materials suppliers and their contact information.
More comprehensive reports by the publisher can be found at QYResearch page.