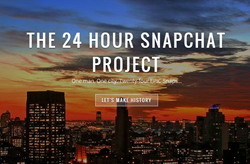 I've always wanted to do this experiment on Snapchat. I decided the best place to do it is in the city that never sleeps!
Jacksonville, FL (PRWEB) April 10, 2015
Snapchat Celebrity Mark Kaye will stay awake for 24 straight hours in New York City and document his adventures on his Snapchat story. He calls it "The 24 Hour Snapchat Project."
The project begins on April 20th at 9:00am and continues through the next morning at 8:00am. During the course of the project, Kaye will meet with a world-famous film director, walk the red carpet at a major awards show, and finish his adventure on the set of a nationally televised morning news program. The only thing he won't do is sleep!
"I've always wanted to do this kind of experiment on Snapchat," explains Kaye. "I decided that the best place to do it was in the city that never sleeps." And others agree. Smoothie King, Delmondo, and Iontuition have already signed on to sponsor the first few hours of the project.
"To help fund the excursion and make my adventures truly epic, I decided to offer a tiered sponsorship program," says Kaye. "I sold the first four spots in about an hour!"
To create a sense of urgency, the first hour was priced at $100 with each subsequent hour increasing in price by $100. "My Snapchat stories are seen by tens of thousands of people every day," says Kaye. "It's a great way for smaller companies and individuals to get some high-profile publicity at a really low cost."
In addition to a full day of Snapchat promotion, Kaye promises his backers that the story will live forever on his YouTube channel as well as his website and other social media accounts. There are still a few hours available for sponsorship.
"I'm excited that people are as excited about it as I am," says Kaye. "And also, that New York City has so many coffee shops. I'm going to need them."
Mark Kaye is the host of "Talkin' Snap!," the only talk show that airs on Snapchat. He also hosts a nationally syndicated radio program called "The Mark Kaye Show."
To schedule an interview, please contact Mark at markkayeshow(at)gmail(dot)com.