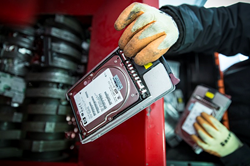 What is unique is that the CCTV footage can be used for asset tracking of the media and can be filtered by the customer.
United Kingdom (PRWEB UK) 9 April 2015
DiskShred, a pan-European provider of onsite media shredding solutions, will be showcasing their unique, CCTV innovation at this year's Infosecurity Europe 2015 Exhibition, being held between 2nd and 4th June 2015 at the Olympia, London.
DiskShred takes redundant, data-bearing media and shreds it down into fragments as small as 6mm. The data is therefore irreversibly and permanently deleted and the media debris is disposed of safely and responsibly according to government regulations. By utilising a fleet of state-of-the-art shredding trucks, the media is safely shredded onsite of a customer's premises, reducing the risk of a security breach. A Certificate of Destruction is provided to state that the customer has fulfilled their regulatory obligations.
DiskShred is set apart from other solution providers by the speed of service, shredding up to 2,000 hard drives or tapes per day from the self-powered shredder lorries. This topped with the unique CCTV video evidence of the media being destroyed, places DiskShred as the industry-leaders in onsite media shredding that others seek to emulate.
The latest development sees the DiskShred trucks fitted with CCTV, enabling the customers to view footage of their media undergoing the shredding process. The footage is sent to the customer for their records and can be relied upon for future audits. What is unique is that the CCTV footage can be used for asset tracking of the media and can be filtered by the customer. This works by scanning the serial number of each item before shredding and allows the customer to filter the footage to view a specific item being shredded. All items can be tracked as part of the shredding process so they have confirmation of the data disposed. DiskShred creates an encrypted asset register for highly confidential hard drives and storage media. This includes the type of media (e.g. hard disks, media tapes, CDs), the Asset Tag (serial number or other identifiers), the number of units and the date and time they were shredded.
Leona Mills, Marketing Manager of DiskShred, comments on why they are exhibiting at Infosecurity Europe 2015: "Specifically designed for the European market with 15,000 industry professionals from over 70 countries expected to attend, this exhibition provides the ideal backdrop for us to emphasise our pan-European offering and to showcase our latest security-advanced onsite shredding solution to support security conscious IT professionals. Come and meet with us at the show on Stand N70."
For further information on DiskShred or for a quotation, please contact Leona Mills (Marketing Manager) on 0800 080 5083.
END
Note: DiskShred is a fully accredited, pan-European provider of onsite media shredding solutions based out of three office locations; Reading in the UK, Northern Ireland and Dublin ROI. DiskShred provides onsite media shredding solutions throughout Europe via their fleet of sophisticated shredding trucks. Among their customers are local governments, healthcare services, central government bodies, data centres and financial institutions. Please visit http://diskshred.eu/ for more information.
(All trademarks, brand names and copyright fully acknowledged)