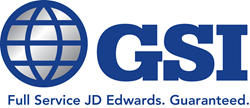 GSI firmly believes that a well-informed user is the key to getting the most out of any business system.
Atlanta, GA (PRWEB) April 12, 2015
GSI, Inc. today announced it will be hosting 25 educational sessions at the Collaborate 15 Conference which is being held on April 12 – 16 at the Mandalay Bay Resort & Casino in Las Vegas, NV. GSI's participation will be highlighted by its Super Session, "JD Edwards Hot Topics", which will discuss the latest trends in the marketplace including Cloud, Internet of Things (IoT), and user productivity (E1 Pages, CAFÉ 1, One View, Watchlists and Mobility) and their impact on JD Edwards. The Super Session will be held Wednesday, April 15 at 2:15pm in Ballroom A.
"GSI firmly believes that a well-informed user is the key to getting the most out of any business system", said Kevin R. Herrig, president and CEO of GSI, Inc. "In addition to our twenty-five (25) strategic seminars highlighted by our Super Session at Collaborate 15, GSI conducts weekly webinars that cover a diverse range of JD Edwards topics, free of charge. GSI is all-in on free education for the JD Edwards community."
GSI will also be hosting a major JD Edwards customer cloud case study session on Wednesday, April 15 at 3:15pm in Jasmine H. The customer along with industry experts from GSI and Secure-24 will discuss the cloud implementation for this publically traded company that included 132 servers, 5 instances of EnterpriseOne and 18 production environments.
In addition, GSI will be hosting 3 vendor awareness sessions, 9 Quest education sessions and 11 booth education sessions. For a complete list of all of GSI's sessions, times and locations, please visit http://www.getgsi.com/collaborate-2015 or stop by the GSI booth in location # 241 (Next to Quest Booth).
GSI, Inc. is a JD Edwards full-service application, development, and technology company and Oracle Platinum Partner. The client-centric consultancy offers a comprehensive suite of solutions including AppCare, a 24/7 managed service for JDE, DBMS, and OS care, as well as RapidReconciler®, its inventory reconciliation software acquired from Andrews Consulting Group. GSI consulting services are backed by its signature 100 percent satisfaction guarantee. Founded in 2004, the rapidly growing company is headquartered in Atlanta with locations nationwide. GSI, Inc. was recently named to Inc. Magazine's list of fastest growing companies, being selected #1,432 on the Inc5000.