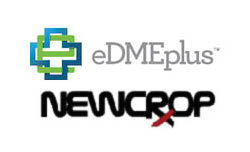 "This partnership is the beginning of a dramatic shift in the way HME/DME supplies are prescribed by care providers, fulfilled and ultimately delivered to a patient."
Carmel, Ind. (PRWEB) April 09, 2015
Stratice Healthcare, a leading healthcare IT company and developer of eDMEplus™, and NewCrop, a premier provider of healthcare electronic prescribing services, have partnered to provide an integrated HME/DME ordering solution for electronic health record systems (EHRs).
As part of a nationwide rollout beginning in April, NewCrop's 180-plus EHR platform will be integrated with eDMEplus, a proprietary, cloud-based electronic ordering system connecting healthcare providers with a nationwide network of over 10,000 HME/DME suppliers fulfilling patients' HME/DME needs.
"This partnership is the beginning of a dramatic shift in the way HME/DME supplies are prescribed by care providers, fulfilled and ultimately delivered to a patient improving the continuity and quality of care," said Jason Farmer, president of Stratice Healthcare. "We could not be more pleased with our partnership with NewCrop as they are a pioneer and industry leader in e-prescribing of patients' medical needs."
The eDMEplus software platform fills a current void in the industry for EHR-integrated HME/DME prescriptions, and replaces an otherwise inefficient, time-consuming process that currently relies on phone calls, faxes and a convoluted paper trail to prescribe and fill a physician's patients' HME/DME orders. Furthermore, the path of e-prescribing for HME/DME equipment and supplies provides the opportunity for physicians to accelerate achievement of Meaningful Use attestations.
"NewCrop has always focused on practice efficiency and patient safety. The tightly integrated Stratice eDMEplus solution offers both," said Lawrence Susnow, M.D., NewCrop's president and Chief Medical Officer. "Even better, since the HME/DME suppliers value the operational efficiencies gained through eDMEplus and support the fulfillment process, there is no cost to the doctor."
John Brady, CEO of Stratice Healthcare, believes this partnership comes at a tipping point in the industry, where physicians, suppliers, patients and regulatory agencies are looking for an integrated electronic solution to deliver necessary efficiencies in the HME/DME prescribing and fulfillment process.
"Stratice's partnership with NewCrop paves the way to interoperability on behalf of the HME/DME industry," said Brady. "Our collective efforts are focused on saving physicians valuable time, providing coordinated patient care, and finally delivering more appropriate and compliant electronic documentation supporting payers' HME/DME claim reimbursement requirements."
About Stratice Healthcare
Stratice Healthcare is a privately held health information technology company facilitating e-prescribing transactions between healthcare providers, payers, patients and home and durable medical equipment (HME/DME) suppliers. Through its proprietary, patent-pending software, eDMEplus™, the Stratice helps improve interoperability and the coordination of patient care through its electronic prescribing solution eliminating costly, inefficient processes that burden healthcare providers, HME/DME suppliers and payers. For more information about Stratice Healthcare, visit http://www.straticehealthcare.com.
About NewCrop
NewCrop is the leading electronic prescribing service and has been deployed in a wide range of EHRs and medical networks since 2003. The company's user interface allows for rapid installation of fully expedited e-Prescription networking, as well as Meaningful Use certifications, lab integration, secure messaging, registry reporting, DEA-compliant EPCS audit, and more. All services are available as an integrated user interface and/or data services for all individual features, facilitating easy and flexible installations to fast track network and Meaningful Use certifications.