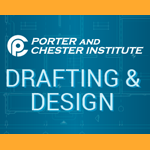 Tiny microchips and huge skyscrapers both start as plans on someone's computer
Rocky Hill, CT (PRWEB) April 21, 2015
Porter and Chester Institute has highlighted a drafting career in a new Computer Aided Drafting and Design (CADD) infographic. The easy-to-follow infographic asks: "Are you ready for a career in CADD?" and then outlines what those considering the profession might expect to find.
Explaining that CADD is used to design and plan a wide range of buildings, products, systems and structures, the infographic notes that tiny microchips and huge skyscrapers both start as plans on someone's computer. Then, "Drafting and Design –are you ready for a career in CADD?" outlines some of the responsibilities of the job, the software used, what CADD operators can expect to produce on their computers, and how their plans are used by everyone on a project.
One feature included in the infographic is a timeline of events related to the drafting profession that goes all the way back to the 1400s. It even notes that artists of the 16th century such as Leonardo da Vinci and Michaelangelo were also skilled architects and engineers who used their talents for drafting.
The infographic goes on to explain how someone might train to become a CADD professional, referencing the programs available at Porter and Chester Institute in Architectural and Civil CADD Technology or Mechanical and Electronic CADD Technology. Both programs teach students how to turn architectural or product manufacturing concepts and designs into computerized drawings and plans. Students learn to create 2D and 3D drawings that can be used by project team members to develop, modify and build structures and products. They also work with programs such as AutoCAD, SolidWorks and Revit and are trained on the fundamentals of design, construction and manufacturing so they can apply theoretical knowledge to practical applications. CADD career training is available at all nine of the Porter and Chester Institute campuses in Connecticut and Massachusetts.
For more information about a career in CADD, those interested can access the infographic now or visit the school's website for more detail about the Porter and Chester Institute CADD programs.
About Porter and Chester Institute:
Porter and Chester Institute is a Connecticut-based postsecondary institution with more than 60 years of experience providing technical, business, and healthcare occupational preparation. Founded in 1946, the Institute trains more than 3,000 students annually through its nine campuses in Connecticut and Massachusetts. Porter and Chester Institute is accredited by the Accrediting Commission of Career Schools and Colleges (ACCSC), is approved by the Connecticut Office of Higher Education, and licensed by the Commonwealth of Massachusetts Division of Professional Licensure, Office of Private Occupational School Education. Porter and Chester Institute uses hands-on education to prepare students for successful careers in a variety of fields.