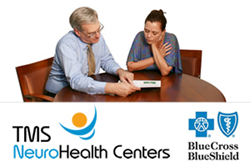 After TMS Therapy, I now know what hope truly feels like. TMS gave me my life back
TYSONS CORNER, VA (PRWEB) April 09, 2015
TMS NeuroHealth Centers is pleased to announce the opening of TMS NeuroHealth Centers, Rockville, MD and Reston, VA as it continues to expand its coverage area for individuals seeking TMS Therapy for the treatment of depression. Since opening its flagship center in McLean, VA in 2011, TMS NeuroHealth Centers has administered more than 15,000 treatments to over 500 patients. Bill Leonard, CEO and founder of TMS NeuroHealth Centers explains, "Expanding our service reach throughout the DC METRO area only makes treatment even more accessible to those individuals suffering with depression when anti-depressant medication has been unsuccessful."
TMS Neurohealth Centers is a network of centers offering TMS Therapy in Tysons Corner, Richmond, Charlottesville, and Reston, VA as well as in Kensington, Greenbelt and Rockville, Maryland. TMS NeuroHealth Centers', with its team of leading medical experts in the fields of neurology and psychiatry, are deeply committed to providing patients with the latest in medical technology, individualized treatment and compassionate care.
Transcranial Magnetic Stimulation (TMS) therapy is a non-drug, non-invasive, FDA-cleared medical treatment for patients suffering with depression without any of the typical side effects experienced with antidepressant medications, such as weight gain, fatigue and sexual problems. This treatment uses highly focused magnetic pulses to gently stimulate areas of the brain known to control mood which have been scientifically identified as under-active in people who suffer with depression. Stimulation of the neurons, cells that transmit and process information, cause the release of chemical neurotransmitters in the brain, thus resulting in a reduction of depressive symptoms. Each treatment is a 30-40 session; typically administered 5 days a week for 4-6 weeks when depression is in its acute phase.
TMS therapy is a proven medical treatment for depression for patients suffering from side effects of antidepressant medications and/or who are treatment resistant. Dr. Geoffrey Grammer, Chief Scientific Advisor with TMS NeuroHealth Centers elaborates, "a former patient of ours could not have explained his results from TMS Therapy any better, 'imagine living your whole life with one hand tied behind your back. After TMS Therapy, I now know what hope truly feels like. TMS gave me my life back'".
To Learn More about TMS NeuroHealth Centers, Please Visit us at http://www.tmsneuro.com.