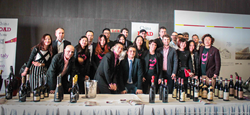 The last leg of the Roadshow in Shanghai has been the one with the largest representation of Italian wine
Shanghai, China (PRWEB) April 08, 2015
The Expo Roadshow in China for the promotion of Expo 2015 Milan ended last week with its final stop in Shanghai once again supported by Vinitaly which, after following all eight stops of the tour (see below the list of cities), contributed to the last leg with the largest line-up of Italian winemakers and importers that China had ever seen: 31 importers (from Shanghai, Beijing, Guangzhou, Shenzhen, and Quingdao) took part in the event in the name of Italian wine together with Vinitaly and 61 Italian wineries there to represent the best of Italy's wine production.
Antinori, Banfi, Ferrari, Gaja, Ca' del Bosco, Bellavista, Livio Felluga, Masi, Marchesi de' Frescobaldi, Planeta and Zonin are only a few of the top brands to be poured during the event. For the first time, the country as a whole was represented and united in the name of Italian wine within an important context such as Expo 2015. "The last leg of the Roadshow in Shanghai has been the one with the largest representation of Italian wine. It was important that our Country should present a united front with its top wines represented by their respective importers," said Stevie Kim, Managing Director of Vinitaly International, "Participation in this project and in this leg of the Roadshow has been surprising and exciting," Stevie Kim continues. "Usually Italian wine presents itself in a fragmentary manner, not just in China, but also in the rest of the world. Shanghai proves that a new and different trend is possible in which Italian wine discloses its potentialities loud and clear."
The Roadshow in China for the promotion of Expo 2015 has been a great opportunity for Vinitaly, importers and Italian winemakers to introduce the excellence of Italian wine to an audience not acquainted with the Italian wine sector, especially in second-tier cities like Changsha, Fuzhou, Jinan and Zhengzhou.
Vinitaly's message in its support to Expo 2015, was one: Italy is no longer only the birthplace of fashion and design, but also a wine-making Country. This is a fact that most Chinese consumers do not take for granted. The road towards conquering the Chinese market, recognized by all for its importance and great potential, will begin right now in Shanghai, less than four weeks away from the official opening of Expo 2015.
The positive trend of Italian wine in China continues: one need only to think for instance of the 60% rise of visitors during the Offsite Showcase at the Kempinski Hotel in Chengdu, where Veronafiere-Vinitaly International presented its B2B showcase from the 23rd to the 25th of March. It is no coincidence that in the same period, during Vinitaly in Verona, Vinitaly International Academy (VIA) certified five Italian Wine Ambassadors from China. Only 26, out of the 55 candidates coming from all corners of the world, were certified having passed the final exam. Five of them come from Mainland China (Ying Guo, Martin Hao, Lingzi He, Lu Yang, and Oliver Zhou) and three from Hong Kong (Sarah Heller, Tersina Shieh, and Jean-Charles Viens). Trade, education, and a unified promotion of Italian wine: from these three cornerstones begins the rise of Italian wine in China.
ROADSHOW STOPS
Beijing (22-26 October 2014)
Changsha (7-9 November 2014)
Fuzhou (21-23 November 2014)
Guangzhou (5-7 December 2014)
Chongqing (19-21 December 2014)
Zhengzhou (6-8 February 2015)
Jinan (27-29 March 2015)
Shanghai (2-6 April 2015)
IMPORTERS
Amore Wines
Asc
Beijing Jinda Haili Trade
Bellitalia
Bright View Trading
Chu Xiao
Cru Italy
Cuve (Shanghai) International Trade
EMW
Enoterra
FGH
Fiabe Food and Beverage Export Association of Italy
Guangzhou Magnus Trading
Hoonay
Insider China
Jebsen
Kelit Italian Wine
Mercuris
Meru
Nam Kwong
Nihon Trading
Qingdao Stardragon
Sarment
Shanghai Centree Trading
Sinodrink
SPS
Summergate
Torres
VM Fine Wines
Wineyun
Yishang-Enoteca Italiana
WINERIES
Agricola Punica
Antinori
Argiolas
Arkiline
Baglio Baiata Alagna
Baglio dei Fenicotteri
Banfi
Barone Montalto
Barone Ricasoli
Batasiolo
Bellavista
Berlucchi
Borgo Paglianetto
Borgo Salcerino
Ca' del Bosco
Cambria
Mionetto
Cantina Tollo
Cantine Aliani
Cantine Europa
Cantine Pirro
Cantine Polvanera
Cantine Salvano
Castello delle Regine
Cubardi
CVA Canicattì
Di Bella
Diesel Farm
Duca di Castelmonte
Ferrari
Feudo Arancio
Fiegl
Fontanafredda
Fontodi
Funaro
Gaja
Il Botolo
La Collina dei Ciliegi
La Gioiosa
La Spinetta
Livio Felluga
Marchesi de' Frescobaldi
Marchesi di Barolo
Marco Maci
Martinez
Masi
Mezzacorona
Milazzo
Montalbera
Planeta
Poderi Luigi Einaudi
Podernuovo
Tasca d'Almerita
Tenuta Sant'Anna
Tenuta Sant'Antonio
Tenute de la Custodia
Tommasi
Tenute Rapitalà – Gruppo Italiano Vini
Vaccaro
Vaona
Zenato
Zonin
About:
Veronafiere is the leading organizer of trade shows in Italy including Vinitaly (http://www.vinitaly.com), the largest wine and spirits fair in the world. During its 49th edition Vinitaly counted some 4.000 exhibitors on a 100.000 square meter area and 150.000 visitors including 2.600 journalists from 46 different countries. The next edition of the fair will take place on 10 - 13 April 2016. The premier event to Vinitaly, OperaWine (http://www.vinitalyinternational.com) "Finest Italian Wines: 100 Great Producers," will unite international wine professionals on April 9th in the heart of Verona, offering them the unique opportunity to discover and taste the wines of the 100 Best Italian Producers, as selected by Wine Spectator. Since 1998 Vinitaly International travels to several countries such as Russia, China, USA and Hong Kong thanks to its strategic arm abroad, Vinitaly International. In February 2014 Vinitaly International launched an educational project, the Vinitaly International Academy (VIA) with the aim of divulging and broadcasting the excellence and diversity of Italian wine around the globe. VIA has now also organized its very first Certification Course with the aim of creating new Ambassadors of Italian Wine in the World.
###