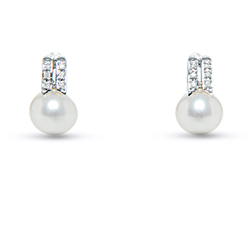 Montreal, Quebec (PRWEB) April 08, 2015
Cultured pearl items containing diamonds will be featured on the Nishi Pearls website to highlight this month's birthstone. These selected diamond pieces come from the Oro and Bridal collections. In celebration of this much-adored gem that is emblematic of luxury and romance, Nishi Pearls explores what truly makes a diamond special.
The Natural Properties of Diamonds
The lasting appeal of diamonds is due to the rare natural properties that make this gemstone one of the most valuable ever discovered. Diamonds are made up purely of carbon and are considered to be the hardest material ever discovered on earth. It requires extreme heat and pressure approximately 100 miles beneath the surface of the earth to produce diamonds. The diamonds unearthed to date are estimated to have been in formation for billions of years. A diamond's unparalleled high luster or "sparkle" and hardness are the result of these unique properties.
Once uncovered in their rough and raw state, they are cleaved, cut and polished into a standard shape with the aim of emphasizing each stone's natural beauty before being made into jewelry. Some of the most popular shapes include round, emerald, princess and cushion.
According to the trained eye of an expert gemologist, the characteristics that determine a diamond's individual worth are what we have universally come to know as the four Cs: colour, cut, clarity and carat.

Colour: The closest to being colourless a diamond is, the more valuable it becomes and is attributed with a colour grade of D.
Cut: The Signature Ideal Cut reflects the most amount of light possible in a diamond and encompasses only the top 1% of diamonds in the world.
Clarity: The best clarity grade is deemed Flawless or Internally Flawless and is extremely rare. It possesses no internal and external blemishes or can possess very slight external blemishes.
Carat: A one carat stone is equivalent to 200 milligrams, the same weight as a paperclip. The precise measurement of carat weight is crucial given that "even a fraction of a carat can make a considerable difference in cost."
While the rarest and most valuable diamonds rate the highest on all these criteria, most diamonds on the market are imperfect and their price is determined by the balance of the four Cs.
The History and Symbolism of Diamonds
Diamond trading is said to have originated in India as early as the fourth century BC, where their limited and accidental discoveries in rivers and streams were geared towards the wealthiest classes. As diamond trading expanded beyond the Indian subcontinent and into medieval markets, the precious gemstone came to be widely appreciated by Europe's wealthy.
Popular myths surrounding the diamond dates back to the Middle Ages when diamonds were believed to possess healing properties as well as enhance one's balance and clarity.
Following the tradition of the engagement ring and the increasing availability and demand of diamonds, this precious stone has been attributed with lasting symbols including luxury, femininity, romance and marriage.
The Current Demand for Diamonds
For the longest time, diamonds have been the modern girl's best friend and this belief continues to persist as the growing demand for diamond jewelry clearly illustrates. According to a recent study conducted by modern diamond jewelry pioneer, Debeers, the worldwide demand for diamond jewelry increased to a record high of $81.4 billion in 2014 and "retailers across all key diamond jewelry markets are optimistic they will continue to see that level of growth in 2015."
While the current U.S. demand for diamonds is stable, 2015 buying trends indicate a demand for smaller and average-quality stones particularly below one carat and ranging between an H to M colour grade.
The present demand for smaller stones is evident in emerging diamond jewelry trends that incorporate small diamonds in creative ways including pave styles and mosaic patterns to achieve a dazzling, starry effect. The inclination for smaller stones in lightweight jewelry also reflects the current trend for layering different pieces.
Diamonds and Pearls: Nishi Pearls' Pieces
Nishi Pearls' appreciation of diamonds' inherent beauty is channeled in the unique designs that incorporate diamonds and pearls. This includes their award-winning Big Wave necklace featuring the finest Genuine Cultured South Sea and Tahitian Pearls as well as reputed Maple Leaf Diamonds™.
Nishi Pearls' Oro and Bridal collections showcase a unique and appealing array of diamond-encrusted pearl jewelry that enhances the delicacy and femininity of bridal wear and represents affordable fine jewelry.
One of the best-selling pendant and earring sets from the Oro collections includes a design showcasing a beautifully round Cultured Freshwater Pearl that is surrounded by a swirl of diamond-encrusted sterling silver with a subtle hint of gold accent. Worn alone or paired together, this set is the perfect jewelry to bring out a classic or traditional wedding gown design.
One of the finest pieces from the Bridal collection includes another pendant and drop earring set made of 10 karat white gold and dotted with diamonds to form a dainty cross design. With a Cultured Freshwater Pearl hanging freely from each piece, this design exudes understated luxury.
Nishi Pearls' Cultured Pearl jewelry studded with sparkling diamonds is emblematic of the perfect union formed by two of the world's most precious gemstones. Their jewelry continues the long tradition of marrying the queen and king of the gem world where the lustrous whiteness of pearls will forever compliment the vivid clarity of diamonds.
Nishi Pearls™ is a brand that specializes in designing and creating a wide range of genuine cultured pearl jewelry that creates the perfect marriage between classic and contemporary. With offices located in Asia, Canada and the U.S.A, Nishi Pearls has been making its mark at some of the most prominent international jewelry fairs including the Jewelers International Showcase, the Orlando Duty Free Show of the Americas and the Jewelers' Circular Keystone's (JCK) annual trade show in Las Vegas, to name a few.
Nishi Pearls' dedication to quality is reflected in its partnerships with leading professionals, including their latest co-branding endeavor with Swarovski as well as Air Canada's Inflight program. Their award-winning jewelry is inspired by the consumer of today and the fashion of tomorrow.
Visit them at: http://www.nishipearls.com/online/