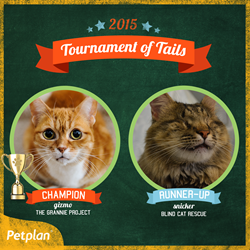 (PRWEB) April 08, 2015
Two cats have broken the Internet! On April 6, tens of thousands of animal lovers went online to vote for their favorite feline in the final round of Petplan's second annual Tournament of Tails. After rebooting its web servers (and pouring its developers a stiff drink!), the pet insurance provider crowned a champion in the online tourney. In a surprise ending, it also announced a $5,000 grand prize will be awarded to both the winner and runner-up.
Between March 17 and April 6, 32 dogs and cats represented their respective rescuers in the tournament, which raises awareness and much-needed funds for animal shelters and the pets they serve. In all, animal lovers cast 184,370 votes for their favorite furballs, with matchup winners advancing through subsequent rounds. Every participating shelter received a share of the $15,400 purse, and 14 pet players found fur-ever homes — with even more adoptions currently in the works.
The two finalists, "Gizmo" and "Snicker," represented The Grannie Project and Blind Cat Rescue and Sanctuary, respectively. The Grannie Project, based in Wayne, PA, rescues, rehomes and advocates for senior pets, while Blind Cat Rescue offers lifelong sanctuary at their St. Pauls, NC, facility to blind, FIV-positive and FELV-positive cats.
Both kitties overcame long odds to compete in the tournament, although Gizmo was the clear "under-cat," trailing Snicker by 2,700 votes at midday in the final matchup. After a tremendous push, the furry contenders headed into the final hour of voting nose-to-nose, and when the dust settled, Gizmo came out ahead by a whisker!
When The Grannie Project learned they had won, they generously offered to split their winnings with Blind Cat Rescue — especially given the technical difficulties caused by an onslaught of web traffic in support of both shelters.
Petplan co-founder and co-CEO Natasha Ashton was moved by the gesture — and offered instead to award a second $5,000 grand prize to the runner-up. "It just speaks volumes about the amazing selflessness of these organizations," she confides. "On behalf of the entire Petplan family, I'd like to congratulate The Grannie Project and all of our participating shelters. It's an honor to work with people who believe, as we do, that pets come first."
Amanda J. Cox, Founder and Executive Director for The Grannie Project, says she "literally cannot stop smiling for everyone involved." She adds, "We are so grateful to have been included in this year's contest and for the awesome generosity of Petplan for giving both finalists matching grand prizes. We will be using Petplan's donation to help open our Adoption Center for senior pets, which will be the first of its kind in the Philadelphia area. Senior pets are so often overlooked in shelters in favor of younger animals, and we are staunchly dedicated to showing people that seniors make fantastic companions and have so much love to give! The donation from Petplan will help us save two to three times as many pets as we are currently able to."
Alana Miller, Blind Cat Rescue Founder and Director, says, "We are shocked and amazed at the kindness and amazing generosity of both The Grannie Project and Petplan. This prize will help us continue to provide the cats with the quality medical care they need. We are so grateful to Petplan for having given us this wonderful opportunity!"
This year's tournament was expanded significantly from the 2014 competition, with 16 additional shelters, a larger purse and a dedicated, mobile-friendly website. All donations and development resources were provided through Petplanthropy, Petplan's official corporate philanthropic initiative.
For more information about the tournament, visit http://www.gopetplan.com/tournament-of-tails.
###
ABOUT PETPLAN
Petplan is more than a pet insurance company. We're dedicated to providing pet parents with the support, resources and tools they need to keep their pets not just surviving—but thriving—into their old age. Simply put, we aim to be the kind of company that will make our pets proud. For the third consecutive year, Petplan was listed among Forbes' annual ranking of America's Most Promising Companies – a list of 100 privately held, high-growth companies with bright futures. Petplan is the only pet insurance company to have been included on Inc. Magazine's list of 500 fastest-growing, privately held companies in America.
Petplan's fully customizable cat and dog insurance policies provide comprehensive coverage for all hereditary and chronic conditions for the life of the pet as standard. Petplan policies are underwritten by AGCS Marine Insurance Company in the U.S. and by Allianz Global Risks US Insurance Company in Canada. The Allianz Group was rated A+ by A.M. Best in 2014. For more information about Petplan pet insurance, visit http://www.gopetplan.com or call 1-866-467-3875.
ABOUT PETPLANTHROPY
Petplanthropy is the official corporate philanthropic initiative of pet insurance provider Petplan. The initiative fulfills its mission of "pawing it forward" by encouraging Petplan employees, policyholders and the general public to lend paws-on support for two- and four-legged friends alike. Petplanthropy facilitates annual Petplan-sponsored charity events, paid time off for employee volunteerism and the donation of employees' time and talent to charitable endeavors. The initiative also fundraises for the Petplan Fund, from which it donates money to causes that support vulnerable pets and their families. The Petplan Fund is a component fund of The Philadelphia Foundation, a community foundation 501(c)(3) organization.