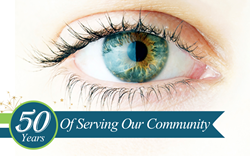 SoCal Eye will continue to provide great eye care, with the same experience and commitment to its community as it has for the last 50 years
Long Beach, California (PRWEB) April 10, 2015
Southern California Eye Physicians & Associates, also known as SoCal Eye, is excited to announce its 50-year anniversary. The practice was founded by Dr. Ronald Hartman as Lakewood Eye Physicians in 1964-1965 and is now home to six board-certified, university-affiliated ophthalmologists and four board-certified optometrists. Over the span of the last 50 years, SoCal Eye has been providing Southern California the latest advancements in eye care.
With advances in technology rapidly modernizing the world of medicine, ophthalmology has come a long way since the practice first opened. "I've seen immense changes. Cataract surgery used to be an hour-long procedure, taking up to 5 days to recover and now it's a 10-15 minute procedure and patients are back to work the very next day, says Dr. Ronald Hartman. A transplant from the East Coast, Dr. Hartman had trepidations about moving to California. When he was offered a job in Southern California, he told his wife "let's try it for a year and see how it goes." Now, 50 years later, he continues to call Long Beach his home.
SoCal Eye has locations in Lakewood (bordering Long Beach) and Los Alamitos, California. They also own a private state-of-the-art surgery center that allows their patients to have eye surgery in a safe, convenient, high-quality alternative to inpatient hospitalization. The surgery center has on-site board-certified anesthesiologists and is certified by Medicare. SoCal Eye also has a Clinical Research Center that helps conduct clinical trials and market research on surgical products and techniques that help advance the field of ophthalmology. Their clinical trial experience has encompassed many implant, drug, and device companies. As a result, SoCal Eye patients often have the benefit of being first to hear about and receive new eye care products, technologies, and techniques.
The ophthalmologists at SoCal Eye include Ronald Hartman, MD, Larry A. Pasquali, MD, Doctor Ronald Hartman's son, Carl T. Hartman, MD, Trinh T. Nhu, MD, Emma Clay, MD, and Doctor Larry Pasquali's son, Theodore Pasquali, MD. Together, these doctors provide the latest diagnoses and treatment options for cataracts, glaucoma, dry eye, laser vision correction, and general eye care.
"SoCal Eye will continue to provide great eye care, with the same experience and commitment to its community as it has for the last 50 years," says Dr. Ronald Hartman.
About SoCal Eye
Established in 1964-1965 by Dr. Ronald Hartman, "Lakewood and Los Alamitos Eye Physicians" and "Long Beach Laser & Cosmetic Center" serves the communities of Orange and Los Angeles counties. As the practice grew, we were united under the name Southern California Eye Physicians & Associates, also known as SoCal Eye.
SoCal Eye is one of the longest standing and most-trusted ophthalmology groups in the nation. We provide a complete line of comprehensive eye care, including cataract and implant surgery, LASIK and refractive surgery, and treatment for glaucoma, macular degeneration, pterygium (surfer's eye), and diabetes. We also offer facial cosmetic treatments and surgery.
Our renowned surgeons are teaching professors who are always informed about the latest advances in eye care. They participate as clinical research investigators for many leading-edge products and technologies, such as the newest generation of implantable lenses for cataract and refractive surgery.
Lakewood Location
3300 East South St. #105
Long Beach, CA 90805
P: 562-531-2020
Los Alamitos Location
3801 Katella Ave. #130
Los Alamitos, CA 90720
P: 562-598-7728
Contact: Adam Reents
Stubenbordt Consulting
(682) 831-0900
info(at)stubenbordt(dot)com