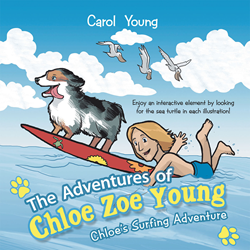 SAN DIEGO (PRWEB) April 09, 2015
Surf's up for this talented pup! Aside from her role as a goodwill ambassador to schools and nursing care facilities, Australian Shepherd, Chloe Zoe Young is jumping into storybooks and enjoying the ride.
"The Adventures of Chloe Zoe Young: Chloe's Surfing Adventure," is a fun and interactive story that keeps children's interest while encompassing rhyming – a fundamental way to increase comprehension.
Author Carol Young provides a simple yet entertaining book that is the perfect length for a short attention span and interactive enough to maintain interest and comprehension. Young's book challenges young readers to find a sea turtle in each illustration. While some may be obvious, the seek-and-find approach will keep children entertained from start to finish.
For more than 30 years, Young has worked in early childhood education where she would extensively read to children – newborns through the age of 5-years-old. Her experience has exposed what children enjoy most and their cognition of rhyming.
"The Adventures of Chloe Zoe Young: Chloe's Surfing Adventure"
By Carol Young
ISBN: 978-1-4908-4612-5
Available in softcover and e-book
Available on Amazon, Barnes & Noble and WestBow Press
About the Author
Carol Young is the owner of the Australian Shepherd, Chloe. Before retiring, Young was a preschool teacher at The Seventh Day Adventist Little Lambs Learning Center. She is a mother and grandmother. Currently she lives in Fallbrook, California. This is her first book in "The Adventures of Chloe Zoe Young" series.