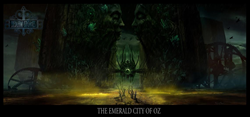 Representing both Pearry and Amy, I noticed a similar creative vein between them; so it didn't take long to match them into the perfect team for Bedlam Stories.
Manning, SC (PRWEB) April 10, 2015
Bedlam Stories is a franchise created by Teo. Centered around characters from Alice in Wonderland and The Wizard of Oz, Bedlam Stories is a horror re-imagining of the beloved characters we grew up with.
Dorothy and Alice are now inmates in Bedlam Asylum, as their imaginative worlds become destroyed as they are subjected to cruel treatments and experimentation's by Doctor Braun as he seeks to tap into the powers of the young girls.
Teo and Miles were introduced by their agent, Italia Gandolfo, CEO of Gandolfo Helin & Fountain Literary Agency. On signing the deal, Gandolfo said "Representing both Pearry and Amy, I noticed a similar creative vein between them; so it didn't take long to match them into the perfect team for Bedlam Stories."
Singapore-born director/producer/writer Pearry Teo made history as the first of his native country to direct a Hollywood feature film, with the 2007 sci-fi thriller The Gene Generation, starring Bai Ling and Academy Award winner Faye Dunaway. Teo's films combine uniquely sinister visuals with engaging, action driven story lines that have been met with wide acclaim from horror audiences.
Teo's unique stylistic sensibility characterizes the dark fantasy world of his films, ranging from a twisted re-imaging of the Land of Oz to cyberpunk dystopia. Following the release of The Gene Generation, Teo wrote and directed the horror film Necromentia in 2009. In 2010, Teo was on location in China to direct NBC/Universal's fantasy project, Witchville, starring Luke Goss for the SyFy network. In 2011, he returned to the horror genre with Dead Inside. Since then, Teo has completed several films including, Dracula: The Dark Prince, starring Academy Award winner Jon Voight, and Strange Blood (2015).
Outside of directing, Teo has served as an executive producer with Ascension Pictures for the Wachowski Siblings' Cloud Atlas, starring Tom Hanks and Halle Berry. Teo is slated to executive produce, with Red Sea Media, four features under the Pearry Teo Presents label. He also serves as co-partner and founder of Teo Ward Productions, his development and transmedia content creation company.
Most recently, Teo wrapped filming on The Curse of Sleeping Beauty (2015) starring Ethan Peck, India Eisley, Zack Ward, Bruce Davison, and Natalie Hall.
Author Amy Miles has always been a bit of a dreamer. Growing up as an only child, and a military brat to boot, she spent countless hours escaping into the pages of a book, only to spend the following days creating a new idea of how to twist up the story to make it unique.
Since becoming a mother, Amy has slowly nourished her love of the written word while snatching writing time in the midst of soiled diapers, tumbling over legos and peering around mounds of laundry and dishes that never seem to go away. Once her only son started school, Amy was free to let her fingers dive into dark mythology, tales of betrayal and love, and explore human nature in its rawest form. Her love of seeing the world from a different angle bloomed.
Amy is the author of several novels, including her popular young adult immortal books, The Arotas Series, which are an Amazon and iBooks bestselling series.
The film and book releases are scheduled for 2016.