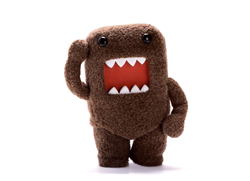 Prominent Japanese chef and popular mascot character, Domo, celebrate Sakura trees in Washington, D.C., Saturday, April 11
(PRWEB) April 10, 2015
NHK, Japan's sole public, independent public broadcaster, will bring NHK WORLD celebrities Chef Tatsuo Saito, host of Dining with the chef, and the network's beloved mascot Domo to Washington, D.C. to participate in the renowned Cherry Blossom Festival Parade and Sakura Matsuri on April 11, 2015. NHK World is the all-English language channel of NHK.
A prominent master of Japanese culinary arts, active around the world, Saito has served as head chef at the Japanese embassies in Paris and Washington and given special instruction in Japanese cuisine at a Swiss hotel school. He takes great care in arranging each and every food item to draw out the distinctive characteristics. Saito runs a cooking school in Tokyo, works in TV, magazines and on the lecture circuit, and is also a prolific author. On each episode of Dining with the chef, he takes viewers worldwide to the heart of Japanese cuisine through scientific analysis of the culinary techniques used with all the various ingredients and inside instruction on everything from basic to professional skills.
After marching in the festival parade, Chef Saito will host cooking demos at the Festival, preparing springtime recipes. Domo, who will be making his D.C. debut, will also march in the parade and amble around the festival grounds to greet fans and pose for photos.
Both Chef Saito and Domo can be seen on NHK WORLD, the stand-alone 24-hour, English-language television news and lifestyle network available to more than 2.4 million Washington, D.C. area homes on WNVC over-the-air channel 30.2 and on Comcast channel 272, FiOS channel 456 and Cox 471.
First celebrated in 1927, The Cherry Blossom Festival celebrates the 3,000 cherry blossom trees gifted to Washington D.C. from then-Tokyo Mayor Yukio Ozaki. Since then, the Festival has grown to span 4 weekends and draw more than 1.5 million people and celebrates the U.S.-Japanese relations.
About The National Cherry Blossom Festival
The National Cherry Blossom Festival is the nation's greatest springtime celebration. The 2015 Festival, March 20 – April 12, includes three spectacular weeks and four weekends of events featuring diverse and creative programming promoting traditional and contemporary arts and culture, natural beauty and community spirit. Visit http://www.nationalcherryblossomfestival.org/ or call 877.44.BLOOM for more information and find the festival on Facebook (CherryBlossomFestival),Twitter (@CherryBlossFest), andInstagram (@CherryBlossFest).
About Japan International Broadcasting, Inc.
Japan International Broadcasting Inc. (JIB), a subsidiary of NHK, is responsible for the worldwide distribution of the HD English language news/lifestyle program "NHK WORLD TV", as well as the Japanese language program "NHK WORLD Premium." Currently, the two channels are broadcast around the world on three international and 20 domestic satellites and reach households, hotels and others via DTH, cable, IPTV and terrestrial broadcast.
To schedule interviews or for more information and images, contact
Kate Allen, RGPR, kate(at)rakergoldstein(dot)com, 201-527-8924.