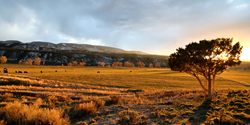 "We look forward to finding a buyer who fully appreciates the ranch's agricultural, historical, and recreational significance, as well as its importance to the community."
Denver, Colorado (PRWEB) April 08, 2015
Hardscrabble Mountain Ranch, a 1,516-acre ranch located south of Eagle, Colorado in the heart of the Brush Creek Valley, was recently listed with Mirr Ranch Group of Denver, Colo. for $20 million. The property, recently acquired by a Denver-based group of investors led by Brue Capital Partners, consists of all of the ranchland associated with the renowned Adam's Rib Ranch and Adam's Mountain Country Club.
"We are excited to be marketing Hardscrabble Mountain Ranch, as it is one of those rare properties that offers the full spectrum of sought-after ranch attributes," said Ed Roberson, listing broker for Mirr Ranch Group. "The ranch boasts 2.5 miles of private fishing, trophy big game hunting, productive agricultural operations, water rights, and adjoining public lands, all within seven miles of a commercial airport and a short drive from Vail Mountain and Beaver Creek Resorts."
The property was previously owned by Fred Kummer and HBE Corporation, who began assembling the ranch in 1973, creating one of the largest undivided ranches in the Vail Valley.
"Mirr Ranch Group has a long history of pairing responsible land stewards with spectacular ranch properties," said Chad Brue, principal of Brue Capital Partners. "We look forward to finding a buyer who fully appreciates the ranch's agricultural, historical, and recreational significance, as well as its importance to the community."
Given the ranch's location, wildlife population, and riparian habitat, the property is an ideal candidate for a conservation-minded buyer. "Eagle Valley Land Trust would be thrilled to work with buyers to explore conservation options for the ranch," said Jim Daus, Executive Director of the Eagle Valley Land Trust. "The Brush Creek Valley is vitally important for the future of Eagle County, so we'd love play a role in preserving it for future generations."
The investment group will retain the Adam's Mountain Golf Course and development, which borders Hardscrabble Mountain Ranch's southern property line. "The ranch is extremely unique in its own right, but the fact that it adjoins a world-class golf course and country club gives the future owner the opportunity to enjoy recreational opportunities not usually found on ranches of this size and scope," added Roberson.
For media inquiries, to arrange for an interview, or to get an expert quote, please contact Mallory Boyce at (303) 623-4545. Photography available upon request.
About Mirr Ranch Group:
Mirr Ranch Group offers marketing and buyer acquisition services for fine sporting properties and legacy ranches for sale throughout the American West. Brokers for the company are known for their expertise in sporting, public lands and conservation in addition to their unsurpassed knowledge of ranch transactions.
For more information, contact:
Mirr Ranch Group
915 South Pearl Street
Denver, CO 80209
(303) 623-4545
http://www.MirrRanchGroup.com