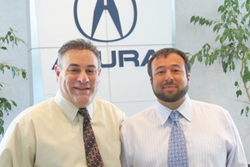 General Sales Manager, Michael Lasko and Sales Manager, Daniel Lasko say they approach each year in the same manner; they challenge themselves to find a way to stay on top.
Bridgewater, NJ (PRWEB) April 23, 2015
For the eleventh straight year, Bridgewater Acura's sales volume has made them number one in Certified Pre-Owned Acura sales in New Jersey, and in the top ten in the nation (this year at number 8).
Remarkably, there is no air of inevitability when you talk to the hard-working management team at Bridgewater Acura. General Manager, Michael Galietta; General Sales Manager, Michael Lasko and Sales Manager, Daniel Lasko say they approach each year in the same manner; they challenge themselves to find a way to stay on top.
The Bridgewater Acura plan is simple and is based on the popularity of new Acuras. Every year, Acura brings out an exciting new line-up of technologically advanced, luxury performance sedans and SUVs. These new Acuras are reliable, durable, innovative and just plain fun to drive. These new Acuras also create a demand for pre-owned Acuras, especially Certified Pre-Owned models.
So, Sales Manager, Daniel Lasko scours the tri-state area and beyond looking for off-lease, low-mileage Acuras that meet Bridgewater Acura's standards and qualify for the Certified Pre-Owned Program.
To qualify, these Acuras must be as near to perfect as a pre-owned vehicle can be. Each one can be no more than six years old, have been driven less than 80,000 miles and have passed a rigorous 150-point inspection by Bridgewater Acura's award-winning technicians. The results of the inspection as well as a vehicle history report are in the glove compartment with the owner's manual for customers to inspect.
Bridgewater Acura maintains a very large inventory of these vehicles, to give their customers the best possible selection and the peace of mind that comes from driving a Certified Pre-Owned Acura with warranty protection.
The Limited Power Train Warranty on a Certified Pre-Owned Acura is valid for up to 7 years or 100,000 miles from when the vehicle was new. An additional limited warranty extends the vehicle's original warranty by 12 months or 12,000 miles.
Bridgewater Acura General Manager, Michael Galietta says "having great cars to sell is only half the story." "We have a great sales team," says Galietta, "and that completes the picture and makes the difference."
Galietta says the Bridgewater Acura Sales Department is "a motivated group that brings tremendous drive to their work." He says that Michael Lasko, Daniel Lasko and their entire sales team have unmatched product knowledge, are always up-to-date on their inventory, and have developed a wide array of contacts for attractive financing options.
Galietta added that their large number of referrals and repeat business is testament to how well the
Bridgewater Acura sales team treats their customers.
Bridgewater Acura owner, Bill Vince says he could not be prouder of his managers and the entire Sales Department, and congratulated all of them for "giving new meaning to the concept of excellence."
Bridgewater Acura earned this year's number one standing on the strength of selling 493 Certified Pre-Owned Acuras.
Bill Vince's Bridgewater Acura is located at 1231 Route 22 West in Bridgewater, New Jersey, a half-mile east of Bridgewater Commons. To learn more about the dealership, call 1-877-70-ACURA or go online at BridgewaterAcura.com.