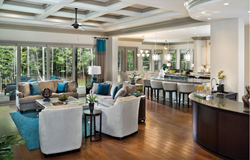 Tampa, FL (PRWEB) April 08, 2015
A Luxury Custom Home builder, Arthur Rutenberg Homes, published a new article providing tips for those throwing a party in their new custom homes.
The article provides both tips on party planning in a luxury home as well as the rationale behind planning larger events in a home.
Many owners of luxury homes are connected to their clients, business associates, or community members. The article discusses how a party can connect with individuals and create closer bonds.
The article goes on to even illustrate how custom luxury homes lend themselves to holding these parties. Tips for party ideas and logistical concerns are even covered.
The article brought up a great point of being able to use one's luxury home to help raise money for charities or do other great work within the community.
The article wraps up with how most luxury custom homeowners should enlist help from those who can handle logistics to allow the hosts to stay hosts. It covers the areas that home owners could use others to help out.
The article is an excellent read for those thinking about hosting a party this spring in their homes.
Read the full article on party planning in luxury custom homes here.