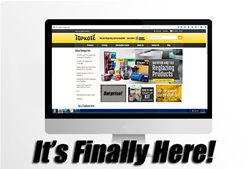 Sumter, South Carolina (PRWEB) April 09, 2015
Topkote Products, one of the largest bathtub refinishing paint providers for professional bathtub refinishing, announced today the launch of their highly anticipated new ecommerce website, Topkote.com. The website will provide professional bathtub refinishers an avenue to purchase bathtub paint, tile paint and other bath resurfacing supplies and equipment.
The new responsive site features a clean and modern look with high-resolution product imagery. Bathtub resurfacing professionals can quickly and simply shop their favorite bathtub resurfacing products. Among the site's initial offerings are free shipping and secure credit card processing.
TOPKOTE PRODUCTS by SUMTER COATINGS
Topkote Products by Sumter Coatings is a leading tub tile paint supply company that provides industrial bathtub refinishing paint as well as cleaner, a proprietary bonding agent, reducer, equipment, and repair supplies. They also offer state of the art professional "hands on" bathtub, tile and countertop refinishing training which includes refinishing multiple bathtubs, a step-by-step manual & video, multi-color paint applications on countertops and tile, sales and marketing assistance and a certificate of completion as a trained Topkote Professional.
Topkote Products was founded after recognizing the need for a true bathtub refinishing "SYSTEM" that held the highest of standards. The idea was to create a business that would grant a professional reglazer with a "SYSTEM" that would be easy to use and fast to learn while maintaining the luxury of a superior product.
The ability to sell high-quality bathroom refinishing products factory direct is something that we take great pride in and we believe there are a large number of refinishers who would like the ability to purchase a quality tub paint factory direct which is 100% reliable. Topkote Products by Sumter Coatings is happy to be able to provide the outlet to do so.
For more information on Topkote.com or to browse the bath resurfacing supplies selection, please visit http://www.topkote.com