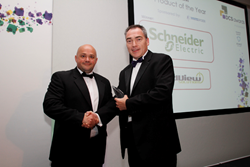 As they are chosen by public vote, the DCS Awards are testimony to the worth of our products and services from the people whose opinions matter the most, namely our customers.
London, United Kingdom (PRWEB UK) 9 April 2015
Schneider Electric, a global specialist in energy management, has been shortlisted for awards in four categories in the DCS Awards 2015. This follows on from its success in winning the Data Centre Infrastructure Management (DCIM) Product of the Year for its StruxureWareTM for Data Centers software suite at last year awards.
Organised by Angel Business Communications, publisher of Data Centre Solutions magazine, and taking place at the Radisson Blu Portman Hotel in London on May 14th, the DCS Awards is a leading event to recognise and acknowledge excellence in the data centre industry.
The Categories in which Schneider has been shortlisted for this year's awards include:
DCIM Product of the year 2015
Currently the holder of this award, Schneider Electric is this year hoping to retain it with its Data Center Operation: Cooling Optmize module. Part of the successful StruxureWare for Data Centers Suite, this module provides automated cooling in dynamic data centres by continuously optimizing airflow. Cooling Optimize is a closed-loop system that reacts to real-time data, automatically identifies and eliminates hot spots and helps diagnose potential facility risks. The application balances the need for cooling with the lowest possible energy expenditure, delivering immediate cost savings and the right amount of cooling within the data centre.
Data centre Energy Efficiency Product of the Year
In this category, Schneider Electric's Galaxy VM UPS delivers ultra-reliable power availability together with class-leading energy efficiency thanks to its patented ECOnversionTM technology. This allows seamless switch over to back up mode in the event of a power outage, guarantees a permanent supply of conditioned power yet does so without using double conversion, thereby saving costs. It also qualifies for enhanced capital allowances and its ability to achieve an IEC 62040-3 Class 1 rating without double conversion makes it unique.
Data Centre Power and Cooling Product of the Year
In this category Schneider Electric is offering its range of 14 prefabricated data centre modules, supported by 12 reference designs, each of which details complete data centres scalable in 250kW to 2MW increments, and meet Uptime Tier II and Tier III standards. The modules are pre-engineered, pre-assembled/ pre-integrated and pre-tested power and cooling systems, delivered to sites as standardized "plug-in" modules. The benefits include cost savings, time savings, simplified planning, improved reliability, improved agility, higher efficiency and a higher level of accountability.
Data Centre Hosting/ Colocation Supplier of the Year
Schneider Electric helped Green Mountain in Norway to deploy an exceptionally energy-efficient data centre in rapid time thanks to its prefabricated modules, delivered on-site preconfigured and pretested for an easy installation. The data centre at Rjukan in central Norway claims to be the Greenest Data Centre in the World and Schneider's prefabricated modules helped the centre to be completed in time to win a major customer order.
"We are delighted to be short listed as Finalists in so many categories for this year's DCS Awards," said Dale Wrangles, Vice President, Schneider Electric, UK. "As they are chosen by public vote, the awards are testimony to the worth of our products and services from the people whose opinions matter the most, namely our customers."
To vote for Schneider Electric at this year's DCS Awards please visit http://www.dcsawards.com/voting.php Voting closes at 17:30 on April 23rd 2015.
==Ends==
About DCS Awards
The DCS awards are designed to reward the product designers, manufacturers, suppliers and providers operating in the data centre arena. The Awards recognise the achievements of the vendors and their business partners alike and this year encompass a wider range of both facilities and information technology award categories designed to address all of the main areas of the data centre market in Europe.
About Schneider Electric
As a global specialist in energy management and automation with operations in more than 100 countries, Schneider Electric offers integrated solutions across multiple market segments, including leadership positions in Non-residential & Residential Buildings, Industries & Machines Manufacturers, Utilities & Infrastructure and Data Centers & Networks. Focused on making energy safe, reliable, efficient, productive and green, the Group's 170,000 employees achieved revenues of 25 billion euros in 2014, through an active commitment to help individuals and organizations make the most of their energy.
http://www.schneider-electric.com
Press Contact:
Schneider Electric
Lavina Dsouza
Phone: + 44 7887 560218
Lavina.dsouza(AT)schneider-electric.com
Press Contact:
Spa Communications
Rory Flashman
Phone: +44 1892 511413
rflashman(AT)spacomms.com