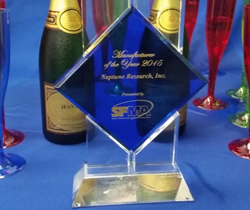 "The hard work and dedication of our people are what make our company great," says CEO Lazzara
West Palm Beach, FL (PRWEB) April 15, 2015
The SFMA Manufacturer of the Year award honors manufacturers in Miami-Dade, Broward, and Palm Beach Counties who foster innovation, technology adoption, international trade, workforce development, and supply chain optimization. NRI's fellow nominees included a disposable paper cup company, a fluid control valve and manifold manufacturer, and a skin care company. However, it was NRI's commitment to quality (including ASME PCC-2 and ISO 24817 standard-compliant designs), unprecedented growth, and dedication to innovative research and manufacturing techniques, that stood out.
As Chris Lazzara, NRI's CEO says, "It is a great honor for NRI to be recognized for this distinguished award. The hard work and dedication of our people are what make our company great." He continues, "It is nice for us to know that the SFMA believes everything we are doing on a daily basis to make our company more efficient, better organized, and focused on the future are the right steps."
Those steps include the continued development and manufacture of cutting-edge composites in our custom-designed, ISO-9001 certified, 30,000 square foot facility located in Riviera Beach, FLA. The space contains training rooms for NRI University, our R&D labs and engineering team, as well as our celebrated composite wrap manufacturing facility.
Lazzara concludes, "This is definitely a reflection of the Entrepreneurial Operating System (EOS® ) process working in our company. The judging criteria was focused, and we spend a great deal of time, attention, and energy improving utilizing EOS. The vision of our company, the goals of where we are going, and how we measure ourselves are important to us, and were recognized by the judges for the SFMA Manufacturer of the Year. It is an honor for NRI to be a recipient of this distinguished award."