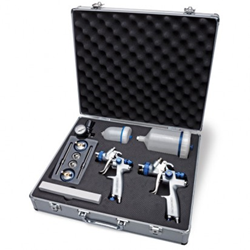 These paint guns deliver on performance, price and value.
Pottstown, PA (PRWEB) April 08, 2015
The Eastwood Company has launched the Concours PRO spray gun line, a professional-quality automotive refinishing HVLP paint gun and detail gun. The spray guns are available individually or in a comprehensive kit that comes in an aluminum storage case and includes air regulator, cleaning kit, and assorted needle/nozzles to handle various finishes. Both the full-sized and detail gun feature stainless steel internals, making them compatible with solvent and waterborne coatings.
Operating on lower CFM requirements to comparable professional spray equipment, the Concours PRO guns feature ultra fine atomization and high transfer efficiency. "Eastwood's goal was to offer paint guns that spray like $700 guns, but for a fraction of the cost," said Nick Capinski, Eastwood Director of Product Solutions. "These guns deliver on performance, price and value".
The Concours PRO guns feature a 3-year warranty. The detail gun includes a 1.0mm needle/nozzle and the full-sized gun features a 1.3mm needle/nozzle. A 1.7mm and 2.0mm needle/nozzle are also available for the full-sized gun, allowing it to handle everything from basecoats, single stage, clear coat to primers.
Eastwood markets unique tools and supplies for repair, restoration, and modification of cars, trucks, and motorcycles. Founded in 1978, Eastwood strives to develop new products to serve the home automotive hobbyist, as well as individuals and organizations focused on the restoration and customization of automobiles and motorcycles. Writers are always welcome to use any article in Eastwood's Free Tech Library, with attribution. Contact Nick Capinski at ncapinski(at)eastwood(dot)com.