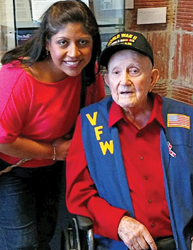 Mr. Lathrop remembers anythings you want to talk about, now or 1930.
Huntsville, Texas (PRWEB) April 14, 2015
Creekside Retirement Community announced today that Army veteran Verner Lathrop will become the oldest veteran to take off on April 18 on a Houston Honor Flight bound for Washington, DC. Mr. Lathrop will reach 100 years of age on July 18, 2015.
"Mr Lathrop is our first centenarian. It's very exciting," said Ashley French, chairman of Honor Flight Houston. The youngest veteran on the flight is 88 years old.
Mr. Lathrop will be accompanied by Maria Rivera, an attendant from Creekside. He will fly to the nation's capital with 24 other veterans to visit the National World War II Memorial.
A Welcome Home ceremony for the veterans will take place at Hobby Airport between 3:30p.m. and 4:00p.m. Those wishing to take part should gather at the Jet Blue Airlines gate on Sunday, April 19.
Still mentally sharp, Mr. Lathrop's cousin, Patricia Bolln, says that Mr. Lathrop "remembers anything you want to talk about, now or 1930."
Vern Lathrop was born in Pine Prairie, Texas, the second of 10 children who grew up in a family of sharecroppers. He worked on many farms until the age of 24 when he joined the army on July 7, 1939, at Ft. Sam Houston in San Antonio.
He was part of the second wave of American troops to land at Omaha Beach during the D-Day invasion of Normandy. Within 45 minutes of landing, and with German planes strafing the beach, he helped set up tents for the medical and food units. There he prepared food for doctors, troops and the wounded. In 10 days, more than 3,500 troops were received, treated, shipped out or buried.
Mr. Lathrop served in the European theatre until 1945 and stayed in the army until August 1, 1970, when he was honorably discharged at the age of 55.