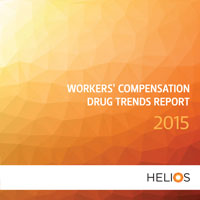 Complimentary Webinar on Work Comp Industry Trends, April 21 at 1pm ET
MEMPHIS, TN (PRWEB) April 08, 2015
Last week, Helios, a national provider of workers' compensation pharmacy benefit management services, released its 2015 Drug Trends Report, which analyzes prevailing trends affecting pharmacy claim outcomes and the impact of the company's programs. The company will discuss its findings, including a favorable decline in utilization of opioid analgesics and lower morphine equivalent dose (MED) per prescription and per claim, in a free webinar on April 21st at 1pm ET.
"Understanding the trends in workers' compensation translates to better outcomes," said Tron Emptage, RPh, chief clinical officer for Helios. "In this year's Drug Trends Report significant findings include an unprecedented increase in average wholesale price (AWP), a positive trend with utilization of opioid analgesics, and encouraging results from the implementation of legislative and regulatory initiatives."
Emptage will be joined by Matt Foster, PharmD, clinical services manager, Joe Anderson, director of analytics, and Kevin Tribout, executive director of government affairs to provide insight to the findings, such as:

The various factors that influence AWP and what payers can do to mitigate the rising price of medications.
How utilization management programs, paired with predictive analytics and clinical programs, led to a decrease in use of opioid analgesics.
Insight on the industry's prevailing influences, such as compounded medications, comorbid conditions, physician dispensing, and treatment guidelines, and what lies on the horizon.
The top ten Therapeutic Classes to understand year-to-year changes and what these trends mean for payers.
Interested parties can register for the free webinar at bit.ly/DTRwebinar. The report can be found at http://www.Helioscomp.com/2015-drug-trends. A recording will be available on the company's website, http://www.helioscomp.com, shortly after the live webinar. Continuing Education credits are not being offered for this webinar.
About Helios
Helios brings the focus of workers' compensation and auto no-fault Pharmacy Benefit Management, Ancillary, and Settlement Solutions back to where it belongs—the injured person. This comes with a passion and intensity on delivering value beyond just the transactional savings for which we excel. To learn how our creative and innovative tools, expertise, and industry leadership can help your business shine, visit http://www.HeliosComp.com or call 800.777.3574.
# # #