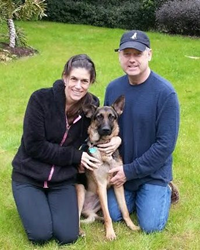 "One Spark inspired me to start Guardian Therapy Dogs, to take it from idea to action."
JACKSONVILLE, FLA. (PRWEB) April 09, 2015
Guardian Therapy Dogs and its founder, Michael Hosto, are featured in the April 1 edition of Folio Weekly, North Florida's news and opinion magazine. The article focused on social entrepreneurs competing in a new category created for One Spark, the world's largest crowdfunding festival.
One Spark is an annual event held in downtown Jacksonville, Florida, and attracts more than 260,000 attendees. People showcase their ideas in Art, Education, Health and Science, Music, Social Good and Technology in hopes of getting votes, donations or even winning money from the crowdfunded prize money.
Guardian Therapy Dogs was used as a spotlight in the article because Hosto, the founder of the organization, was so inspired by the first One Spark in 2013 that he finally put his plan of creating Guardian Therapy Dogs into action.
"I had this idea for years, and I always wanted to do it but I never had the time," Hosto said. "One Spark inspired me to start Guardian Therapy Dogs, to take it from idea to action."
Hosto created the organization in honor of his mother who was attacked and raped in 1978 in their home in St. Louis when he was just 11 years old.
"Because it happened in our home, there was never a place after that where my mom felt safe," he said. "And it has lasted to this day."
Hosto got the idea for Guardian Therapy Dogs after undergoing brain surgery a few years ago. While recovering, he noticed his pet German Shepherd was constantly by his side, a loyal guardian and companion.
He realized that a German Shepherd's natural instincts as a protector could help a rape survivor feel safe and the dog's loving nature would assist with the emotional healing process after an attack of that nature.
The article in Folio Weekly also helps to shed light on the new "Social Good" category that was created to help charitably organizations like Guardian Therapy Dogs have a true place in the competition at One Spark.
Before this year, social entrepreneurs didn't really have a specific category they fit in to so they had to choose from what was available, which didn't always work to their advantage when competing.
For more information on Guardian Therapy Dogs, visit http://www.guardiantherapydogs.com.
Guardian Therapy Dogs is a nonprofit organization committed to providing K-9 guardians and protectors to survivors of rape along Florida's First Coast.
###